This just in: a night in the lives of D-FW's late night newscasts (Tues., Nov. 13)
11/14/07 02:46 PM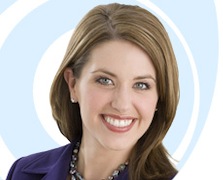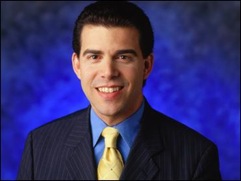 Belo8's Shelly Slater and CBS11's Jack Fink had prominent roles.
By ED BARK
Flush with runaway No.1 ratings for its 10 p.m. newscasts, Belo8 contentedly served some leftovers Tuesday.
The ABC station's
Shelly Slater
weighed in on airport luggage scales in a heavily promoted report. Are they accurate? Do they err for or against passengers who face fines if their baggage exceeds the 50-pound limit?
Good questions, but NBC5's
Ken Kalthoff
already had asked them last Wednesday during his identically-themed 10 p.m. report. In fact, stations in other TV markets -- Cleveland for instance -- likewise are doing the same basic story. Smells like "sweeps" spirit, scented with consultant recommendations.
Kalthoff and Slater reached the same conclusions. Scales often can be several pounds off, but oftentimes in favor of passengers not airlines. Slater's story was longer, though, even if it also was several pounds shy of a scoop.
Belo8 sports anchor
Dale Hansen
later went "Unplugged" again to denounce reports that linked unnamed Dallas Cowboys players to Plano trainer David Jacobs, who pleaded guilty Tuesday to possessing and distributing anabolic steroids and human growth hormone.
"This is the problem with this business anymore," Hansen said, tangling his words a bit out of the starting gate. "We don't have time to wait for the facts to come out . . . Your desire to know, our desire to be the one to tell you (are) all part of the problem."
Hansen conceded that the "good old days" often weren't really that good. But they were better in at least one respect because "we didn't always rush to be first because we always wanted to be right. But not so much anymore."
Hansen has a point. But in this case Belo8 also was regrouping from a beating the previous night, courtesy of CBS11 reporter
Jack Fink
. He led that station's Monday, 10 p.m. newscast with the market's first exposure to the oily Jacobs. In an exclusive interview on CBS11, Jacobs said he had provided training "guidance" to a number of pro athletes, including players for the Cowboys and Atlanta Falcons. But he wouldn't name names, and Cowboys officials said that Jacobs had never worked for the team.
Belo8 then led Tuesday's late night newscast with basically the same story from reporter
Craig Civale
. Meanwhile, Fink was advancing the ball, uncovering former Cowboys lineman Matt Lehr (2001-'03) as one of Jacobs' clients. CBS11 showed a picture of the two of them together, and also noted that Lehr was suspended last season by the NFL for violating the league's substance abuse policies. He was with the Falcons at the time, and now plays for the Tampa Bay Bucaneers.
It's another one of those unsightly, messy sports stories, but Fink so far has done a responsible job of reporting it. Hansen, meanwhile, didn't make a whole lot of sense by saying the media should avoid rushing to judgment except in the case of O.J. Simpson. He should be locked up because, "well, because he's O.J. Simpson," said Hansen. Rim shot, please.
Fox4, Belo8 and CBS11 all played catchup Tuesday night on the brutal, broad daylight beating of elementary school teacher Sheryl Walsh, who was left for dead in a North Dallas Tom Thumb parking lot Friday by a thief who also apparently stole her purse.
NBC5's
Ellen Goldberg
had the only full story on the crime near the top of Monday's 10 p.m. newscast. She also told viewers about the family's anger at not being quickly notified that Walsh had been hospitalized at Parkland Memorial. Instead, her whereabouts remained a mystery over the weekend after Walsh was admitted as a "Jane Doe." Police concede it was an unfortunate foul-up.
Belo8 short-shrifted the story in a middle-of-the-newscast brief Monday while Fox4 and CBS11 missed it entirely during their respective 9 and 10 p.m. newscasts. But by Tuesday night, all three stations gave the Walsh story their full attention while NBC5's Goldberg did a followup.
THIS AND THAT***
NBC5's
Randy McIlwain
, lately a featured reporter on the station's late nighter, led Tuesday's edition with an interesting piece on spoiled meat that looks red and fresh when preserved with carbon monoxide. One local chain, Target, is making efforts to add consumer warning labels to its meat products, McIlwain said.
***
Fox4 turned over a big hunk of its 9 p.m. news to an Atlanta affiliate's undercover investigation of hotel cleanliness -- or lack thereof. Reporter Dana Fowle got grossed out by bathroom drinking glasses being cursorily washed by hotel maids and then returned to sink tops.
A health expert dutifully registered his disgust and said patrons were being exposed to all sorts of diseases. But wait, there's more. Fox4 will present the second part of Fowle's "Room Service Please!" expose on Wednesday's 9 p.m. newscast. Guess they're a bit short on local reporters these days, although Fox4 does have a full hour to fill.
***
CBS11's
Maria Arita
had Tuesday night's throwaway story. It basically was an infomercial for something called "The Millionaire Maker" game. Pretty penny ante for a big-time TV market.
***
Fox4 anointed former running back Tony Dorsett as its fifth greatest Cowboy, meaning that Drew Pearson likely will get the shaft again. Nos. 10 through 6 are Don Meredith, Mel Renfro, Rayfield Wright, Randy White and Michael Irvin. The four remaining slots almost assuredly will be filled, in no particular order, by Emmitt Smith, Roger Staubach, Troy Aikman and Bob Lilly. Right?