Cheaters creator hires TV gumshoe Riggs to develop new programming -- and maybe even class up the joint
02/02/09 10:15 PM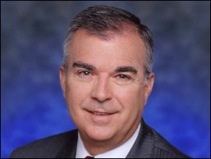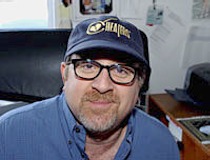 TV gumshoe Robert Riggs and Cheaters maestro Bobby Goldstein
By ED BARK
It's not your usual match made in heaven. But former CBS11/WFAA8 investigative reporter Robert Riggs and the executive producer of
Cheaters
are now business partners, it was announced over the weekend.
Riggs,
downsized at CBS11
in March of last year, has been named executive producer of New Programming and Development for Dallas-based Bobby Goldstein Productions (BGP), which launched the reliably tawdry
Cheaters
in 2000.
The show exposes unfaithful spouses and lovers, not corporate or government malfeasance. But Riggs sees BGP as a good fit for him because he's had it with conventional television news reporting.
"I've gone beyond it. I wouldn't be interested in going back," Riggs said by telephone Monday from Washington, D.C., where he was attending the annual
Real Screen Summit
for the first time. "I think investigative reporting is dead on arrival on television, and pretty much in newspapers, too."
It should be noted that WFAA8, where Riggs cut his teeth as a TV gumshoe, recently won the first-ever duPont-Columbia Gold Baton awarded to a local station. Its chief recipients, investigative reporters Byron Harris and Brett Shipp, are former colleagues of Riggs'.
Goldstein and Riggs go farther back, though. Both worked for the late Texas congressman
Wright Patman
during his committee's early probe into what became the Watergate scandal.
"Bobby came up as an intern one summer, and I was assigned to keep him out of trouble, which proved to be a full-time job," Riggs said. "But everybody loved him back in those days. He just kind of connected with people.
"We've been friends over the years, and when I left CBS11 he started talking to me about doing some consulting work for his company. And I wrote him a bunch of white papers and stuff. He has an uncanny sense of what entertains, and he's just got this creative zeal. He's an idea factory."
Riggs, 59, said he hopes to bring a "git 'er done" discipline to BGP, which "needs to become more than just
Cheaters
."
In its news release, BGP says that Riggs will help produce "videos made for the social media environment of Google, Yahoo, YouTube, Flickr and Facebook."
An early Web initiative, iaccuse.com, tentatively will launch in March, Riggs said. "It was Bobby's idea. He wondered how we could give the powerless a voice. And it really connected with me.
"Newspapers and TV stations get a wide variety of calls from people looking to find some sort of redress. And in this day and age, the resources increasingly aren't there to look into their complaints. And of course, God forbid they call a station with a complaint about one of their advertisers. Because that'll be deep-sixed. That'll never fly."
On iaccuse.com, the aggrieved will be able to "put up their own videos and documentation," Riggs says. "And the person accused can also go on and respond. If there's a risk of libel, it's on the user. We're just providing a place on the Internet in an easy-to-understand way."
A television show ideally could be an offshoot of iaccuse.com, Riggs said. Many stranger things have happened, including the syndicated
TMZ
show (10:30 p.m. weeknights on Fox4 locally) that emerged from the Hollywood gossip site, tmz.com.
"It would be a show about the little guys who took on an institution, harnessed the power of the Internet and got action," Riggs says. "It would be all about the success stories."
Riggs, who has won three duPont-Columbia awards as well as a Peabody, is also still fronting the Robert Riggs Communications Company. He hopes to produce long-form documentaries while wearing that hat.
"I'm going to be in the crime genre," he says. "Heavy, heavy crime stuff."