THE TRADE: removal of malignant tumor rejuvenates Mavs and returns them to living
02/23/10 12:27 PM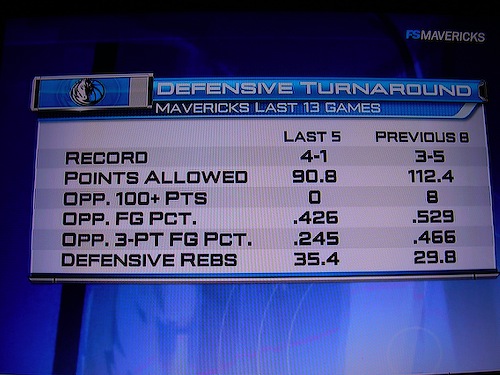 Love those stats: Fox Sports Southwest displayed them on the post-game show after Dallas beat Indiana Monday night. Photo: Ed Bark
By ED BARK
An overdue eviction of Josh "J Ho" Howard has re-routed the Dallas Mavericks toward endless possibilities when the NBA playoffs roll around.
The above statistics, put up on Fox Sports Southwest Monday night, are jaw-dropping in what they say about the Mavs' defense since the acquisitions of Caron Butler, Brandon Haywood and DeShawn Stevenson from the Washington Wizards. Haywood in particular. He's been an Incredible Hulk inside, averaging 11 rebounds and 2.4 blocks per game while playing in place of the injured Erick Dampier.
NBC5 sports anchor Newy Scruggs and others may well be right that Haywood, not Butler, is the key to a trade that wiped away the stench of the malingering Howard and brought in three gamers. Jason Kidd in particular seems reborn, playing with the new-found conviction that these Mavs might actually have a shot at a lengthy playoff run.
The old Mavs clearly were beaten down and on the ropes, with Dirk Nowitzki playing with a noticeable slump in his shoulders as the losses piled up before the All-Star break.
Dallas has gone 4-1 since then, with only one opponent (the Pacers on Monday night) a certified scrub. The new Mavs pretty much toyed with Indiana. The old Mavs probably would have been lucky to win in the final minutes. That's another difference between then and now. And the previous edition never would have whipped the powerful Orlando Magic on their home floor.
Now come the mighty Los Angeles Lakers in a Wednesday night game at the AAC that should pull the Mavericks out of the ratings doldrums for at least a night. They'll square off on both TXA21 and ESPN, with Dallas looking to prove something. In other words, let's play hardball.
Reborn or not, the window remains small for the Mavs. They didn't get younger with the trade. Seven Mavericks are 30 or over, and Butler will hit that milestone on March 13th. On the current roster, only 22-year-old rookie guard Rodrigue Beaubois is a possible future star.
Dallas hit rock-bottom -- hopefully -- with a
miserable 9-point home loss
to the woeful Minnesota Timberwolves on Feb. 5th. Your friendly content provider quickly lashed out with enough vitriol to stock Simon Cowell's medicine cabinet for the next decade.
But that was then. Owner Mark Cuban deserves credit for seeing the obvious and pulling the trigger on a trade that brought new grit to the team while also cleansing it of a constantly injured head case who occasionally showed up for half a game or so. The Ding-Dong is gone and the bell has sounded for the Mavericks' stretch run.
It very much looks like they're ready to make the most of it. And it's fun to get behind 'em again.