Finders keepers: Antiques Roadshow does Dallas
01/26/09 09:26 AM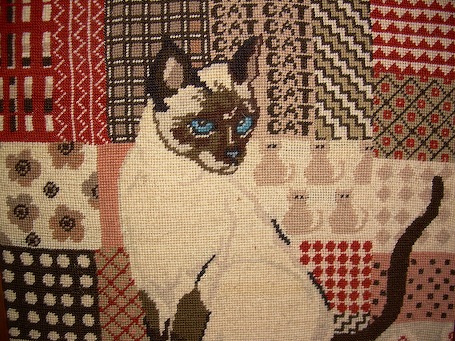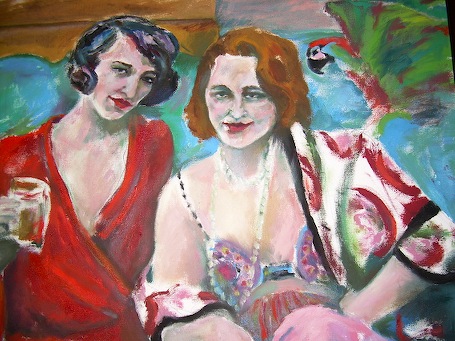 Not yet ready for Antiques Roadshow but slowly getting there: Self-made stitchery from Madeline "Catwoman" Bark, circa early 1980s; original oil of two women getting loose while bird alights by Mary Jonaitis from Uncle Barky's early '70s Wisconsin college daze.
By ED BARK
Most of us think our stuff's worth a lot more than it really is.
That's why you should stick around all the way through the closing credits of Monday's first Dallas edition of PBS'
Antiques Roadshow
. You'll certainly want to see and hear an unidentified old-timer declare, "My sister asked me to bring this plate. And we found out it wasn't worth jack diddly hoo-hoo." Priceless.
The first of three hours from Dallas, taped last summer, premieres in the usual spot at
7 p.m. Monday on KERA (Ch. 13)
. Seventeen items are appraised tonight, including the already well-publicized 1847 painting by James Henry Beard that supposedly would sell at auction for between $300,00 and $500,000.
Roadshow
waits until the end to showcase this find. The Plano woman who owns it already has been featured on WFAA8 in a story by reporter Shelly Slater. But she still doesn't want her name used.
We won't disclose any of the other appraisals because that's part of the fun, of course. For instance, what might a miniature Beggs steam train set from the late 1800s be worth? The guy who brought it in says he got it as a kid from his Uncle Bob.
Another treasure-bearer has a "turned burl bowl" made in the 1820s. It had been sitting atop her TV set as a receptacle for videotapes and DVDs, she says.
The daughter of former New York Yankees outfielder Gene Woodling arrives with a collection of World Series rings, team-signed baseballs and autographed pictures from her dad's days with the team. The Yanks won a record five consecutive world championships from 1949-'53, with Woodling on the roster throughout.
Roadshow
host Mark L. Walberg, who lately has been soiling himself on Fox's
The Moment of Truth
, also takes a road trip to the Hall of State at Fair Park, where a longtime flag collector shows off some of his prizes.
It's still all very addictive, and has been since the original British version premiered in 1979 followed by a U.S. adaptation in 1997. The price is usually right for those items deemed interesting or valuable enough to make
Roadshow
's final cut. In D-FW's case, some 6,000 items were brought to the Dallas Convention Center, with only 45 chosen for the show.
No matter. The guy who brought the basically worthless plate still makes the very best of his few seconds of air time. All together now: Jack diddly hoo-hoo.
The other
Antiques Roadshow
episodes from Dallas are on Feb. 2nd and 9th.