Pictures tell the story of West, Texas tragedy (updated)
04/18/13 11:06 AM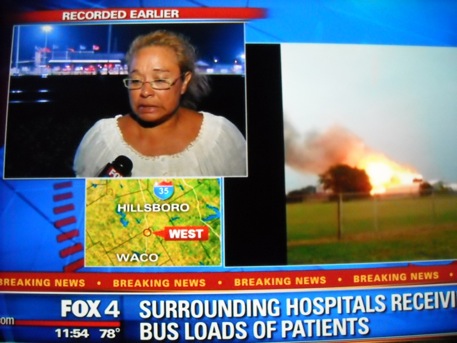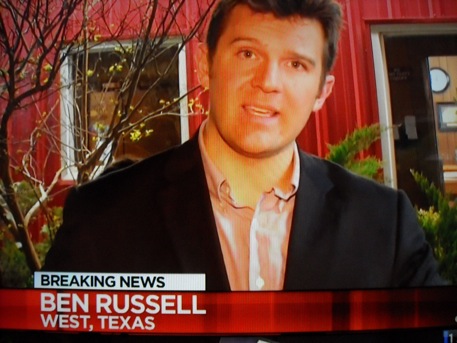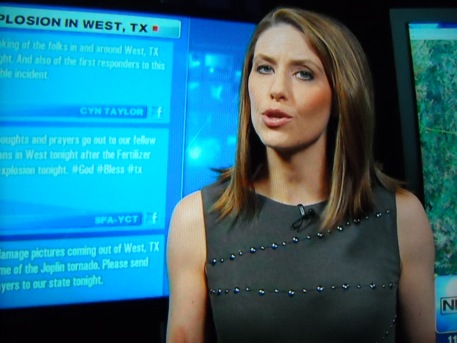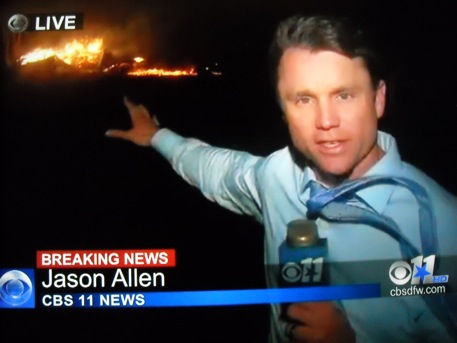 Top to bottom: Fox4's three-screen storyteller; NBC5 reporter Ben Russell; WFAA8 anchor Shelly Slater in station's Social Media Center; CBS11 reporter Jason Allen in the thick of it. Photos: Ed Bark
By ED BARK
@unclebarkycom
First of all, they all should be commended.
Fox4, NBC5, WFAA8 and CBS11 pretty much threw everything they had into Wednesday night's devastating West, Texas fertilizer plant explosion. Late night entertainment schedules were thrown out in favor of continuous, commercial-free coverage. And each station acquitted itself well while individual stations at times stood out from the pack.
NBC5 got a later start than it should have, sticking to the end of NBC's
Chicago Fire
repeat while WFAA8 and CBS11 respectively broke into network reruns of
Nashville
and
Elementary
. Fox4 already was in sync with its regularly scheduled 9 p.m. local newscast.
But later that night, NBC5 and reporter Ben Russell had the only live coverage of West, Texas mayor Tommy Muska's initial media briefing. Muska's most-cited quote -- "There's a lot of people who won't be here tomorrow" -- was recycled in due time by NBC5's competitors. CBS11 anchor Karen Borta told viewers, "I did get this quote from Twitter." NBC5 got it while it happened.
Fox4 had all of its regular 9 and 10 p.m. weeknight news anchors in place -- Steve Eagar, Heather Hays and Clarice Tinsley.
NBC5's Brian Curtis teamed with anchor Amanda Guerra while his usual partner, Meredith Land, had the night off.
John McCaa, half of WFAA8's regular duo, stood out from his peers. He excelled all night as a calm, collected, reassuring presence while substitute anchor Shelly Slater mostly kept up with a steady stream of Tweets displayed in the station's Social Media Center. McCaa's usual anchor partner, Gloria Campos, had the night off.
"This is devastation you would liken to a very serious tornado, a very serious hurricane," McCaa said tellingly.
In an on-screen banner used for a good portion of its coverage, WFAA8 cited Waco's KWTX-TV as the source of a report that 60-70 people were killed in the explosion and its aftermath. But by Thursday morning, KWTX had
downsized that estimate
to between 5 and 15 people dead.
On CBS11, Borta turned to meteorologist Larry Mowry for support. He became an ad hoc co-anchor in the absence of Doug Dunbar or any fill-in. But reporter Jason Allen was quickly on the ground and on-camera. The above picture, of Allen pointing out a nearby blazing home, stood out in the early going. He later walked through the ruins of a badly damaged home in another vivid live shot. CBS11 newcomers Brian New and Mireya Villarreal also pitched in.
Fox4 had reporters Brandon Todd and Natalie Solis in West, Texas, but both communicated mainly by telephone in the pre-midnight hours. WFAA8 deployed Steve Stoler and Todd Unger, both of whom eventually got on camera. But in the 10 p.m. to midnight portion of coverage, NBC5's Russell and CBS11's Allen were the standouts.
All four stations relied heavily on video and pictures sent by on-the-scene civilians. It pretty much goes without saying in these times, but NBC5's Curtis said it anyway: "Social media has proved to be invaluable tonight in covering this story."
On WFAA8, Slater assured viewers at one point, "I've got my phone in my hand, listening to your tweets." She meant "reading," but no one's perfect.
NBC5 likewise flubbed with a quizzical on-screen caption that read, "Reports of People Feeling In Metroplex." But it was soon removed.
As the last to fire up its continuous coverage, NBC5 was also the first to end it. The station went to the tail-end of NBC's
Late Night with Jimmy Fallon
at 12:30 a.m. while Fox4, WFAA8 and CBS11 continued to report on the tragedy past 1 a.m.
CW33's 9 p.m., comedy-infused
Nightcap
-- "A Different Kind of Newscast" -- shut down at 10 p.m. in deference to a
Family Guy
rerun. Its three anchors, seemingly clueless and oblivious, were seen laughing and joking amongst themselves before the cartoon show kicked in. But for D-FW's real TV news operations, a long night had only just begun.
Email comments or questions to:
unclebarky@verizon.net