Today goes to the Matt for full-blown celebration of Jerry's Palace
09/18/09 11:11 AM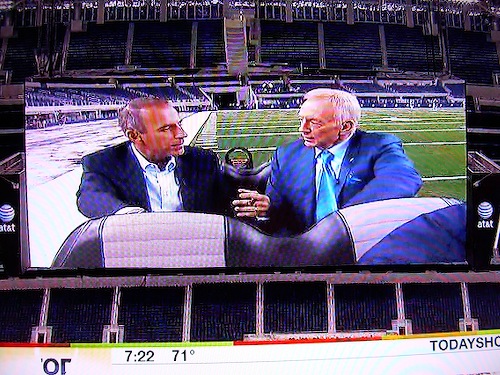 Lauer and Jones are beamed up on giant video screen. Photos: Ed Bark
By ED BARK
Jerry Jones got everything he wanted Friday -- a virtual informercial for his new Cowboys palace on the nation's No. 1-rated network morning program.
NBC's
Today
sent Matt Lauer and Al Roker to Arlington while Meredith Vieira remained in Manhattan to jab, "Talk about a big head, Lauer" when his noggin appeared on Jones' gargantuan high-definition video screen.
Lauer couldn't get over the place.
"Trust me, Meredith," he said for openers, "this place puts the Big in the Big D. This stadium is an engineering marvel."
Seldom was heard a discouraging word. Actually, amend that to "never." Lauer did, however, summon the temerity to ask Jones about building a $1.12 billion stadium during a recession while they rode in a cart along the field of play.
But Jones flicked that one off as though Lauer were a fly on one of his stadium's $60 pizzas ($90 if you're in a luxury suite).
"We all are sensitive to the times that we're in," Jones said. But the best way to beat back a recession is to "sell our way out of it," he proclaimed.
Not that Lauer needed to be sold.
During a videotaped tour of the stadium with former Cowboys great Emmitt Smith, he got to push a button and reach for the sky.
"How cool is that?" Lauer marveled. "I'm opening the roof at Cowboys stadium."
Smith said that anyone who can't get fired up over playing in a place like this shouldn't be on the field. Unmentioned was Smith's much-publicized prediction that the Cowboys will go 7-9 this season.
Lauer and Roker kept gushing over the size of Jerry's showplace. The video screen alone weighs as much as a 747 jet, Lauer noted. And the Cowboys shower room "is as big as my whole apartment in New York," he added.
Lauer even visited one of the men's restrooms in a full-out effort to display all of the "first-class amenities."
"One thousand 700 toilets," he enthused. "No waiting."
Former first daughter Jenna Bush Hager made her debut as
Today's
newest correspondent with a taped piece on 11-year-old Dalton Sherman, whose motivational speaking has made him a youtube sensation and landed him on both the Oprah Winfrey and Ellen DeGeneres shows.
Sherman said he wants to be a news anchor someday, or "maybe president." On cue, he warned at story's end: "Watch out, Matt Lauer, because I might be taking your job."
Lauer -- "This is some place, folks" -- was no threat to Mike Wallace Friday. No one expected an inquisition, but nary a word was said about the costs of attending a game or even parking your car. On the contrary, Lauer instead noted, "They only pay $29 dollars for a standing room only seat."
The Dallas Cowboys Cheerleaders also made an appearance, of course, after Lauer proclaimed them "America's sweethearts, cheering on America's Team."
That's bulletin board material for any members of the New York Giants who might have been watching -- and perhaps also throwing up. Lauer and Roker, who both live and work in New York, also received Cowboys jerseys with their names on back. They loved the stadium cuisine, too, including the mac 'n' cheese with truffles proudly displayed by one of Jerry's chefs.
"Are the prices crazy, or is it kind of within reason?" Lauer dared to ask.
"The quality makes the price," the chef said without being pressed any further.
Jones and the Cowboys couldn't have asked for any more deference -- even from Mickey Spagnola. Most people in the D-FW viewing area probably ate it up. Wonder about the rest of the country, though.
Here are more scenes from the scene -- as captured off a television screen.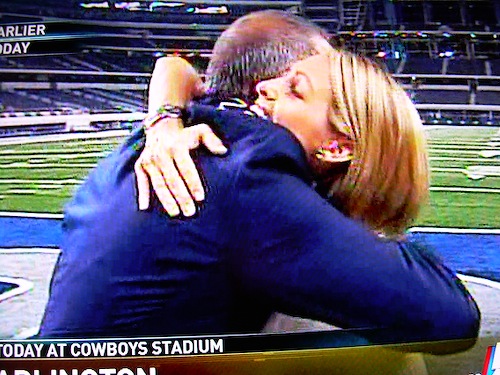 NBC5's Meredith Land requested and received a hug from Lauer.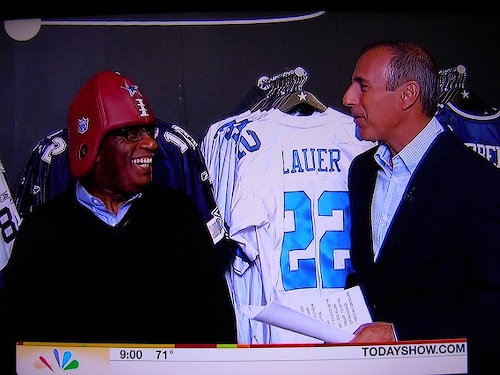 Live from the souvenir shop: That Roker's quite a joker.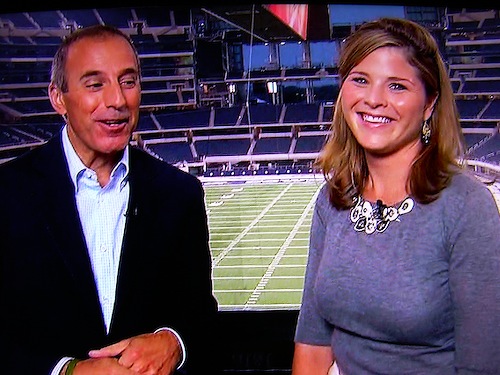 Jenna Bush Hager filed her first report as Today correspondent.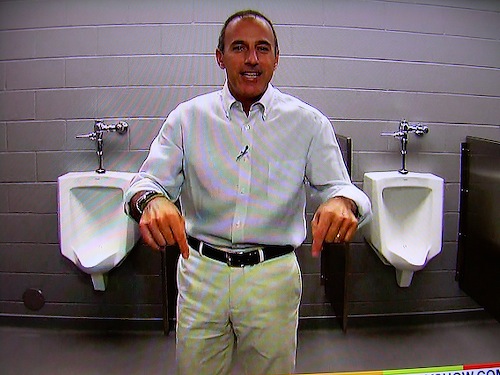 You can't make this stuff up: Lauer's urinal analysis.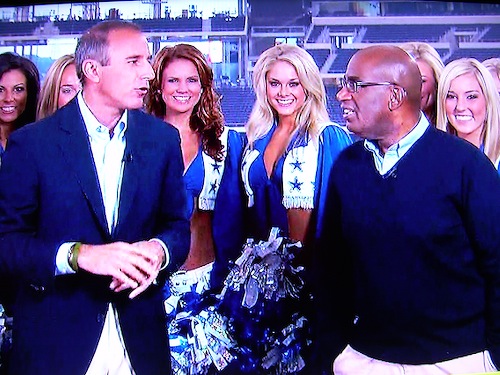 An interlude with "America's Sweethearts," as Lauer called them.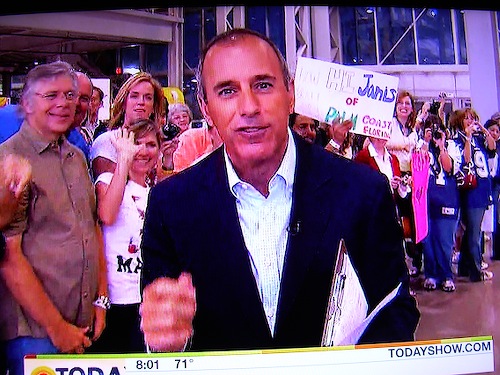 As seen on TV: Lauer outside the stadium with cheering section.