When Pete takes his coat off . . .
03/24/08 10:01 PM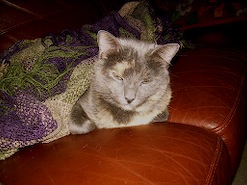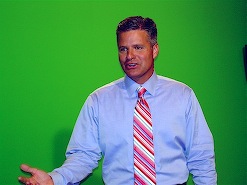 Garland kitty Snickers Bark and nemesis weatherman Pete Delkus.
By SNICKERS BARK, as told to one of her keepers, Ed Bark
When Pete takes his coat off
For bad weather teases,
I go into hiding
And pray to my Jesus.

He sounds an alarm
With just one shirtsleeve.
My little heart races.
Pete's this pet's pet peeve.

It's gotten lots worse
In high-definition
His crystal clear forecasts
Are roads to perdition.

Pete seems to be coming
Right into our house.
I slink and I shiver.
And feel like a mouse.

I wish that my keepers
Would keep Pete at bay.
But he keeps breaking into
Their programs, they say.

So there I'm all snuggled
And purring so cutely.
Then Pete takes his coat off
And talks resolutely.

It sends me right into
A panic attack.
I go underground
And I cannot come back.

That guy with the mustache
Takes his coat off, too.
Add Big Dan and Larry
It's what they all do.

But none do it better.
Or should I say worse
Than Delkus delivering
For me it's a curse.

So next time you're warning
Of thunder and rain
Remember the kittys
They're Abel, you're Cain.

Just ease up a little
Try purring instead.
Yours truly, signed Snickers
From under the bed.