This just in: A night in the lives of D-FW's late night newscasts (Fri., May 18)
05/20/07 04:41 PM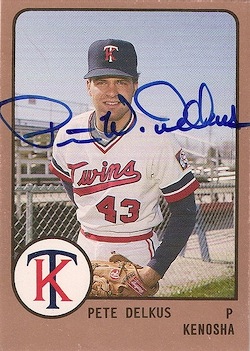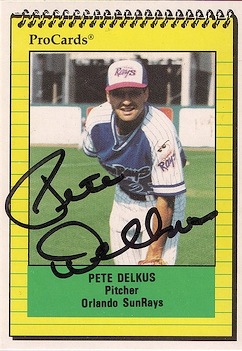 The first (1988) and last (1991) minor league cards of Pete Delkus.
By ED BARK
It proved to be that rare night of nights in D-FW television news.
NBC5 astonishingly scrimped on crime coverage during Friday's 10 p.m. offering, allowing CBS11 to run wild with it. And Belo8 weatherman
Pete Delkus
amazingly said, "I got nothin' for Dale tonight. I'm layin' out."
Delkus almost always takes a post-weathercast shot at sports anchor
Dale Hansen
. It's become a calculated part of the station's strategy to keep viewers from tuning out the last half of newscasts. Kind of like the ol' Tootsie Roll Pop strategem. Give 'em a reason to stay with it, whether it's a chewy chocolate center or the bite-sized banter between Big Pete and even bigger Dale.
Hansen, perhaps shocked at Delkus' oversight, found a way to slap a little line drive back at the former minor league pitching prospect.
"Robinson Tejada doesn't give up a hit 'til the sixth," he said, referring to the Texas Rangers' Friday night win over the Houston Astros. "You ever do that, Pete?"
Apparently Pete had. Hansen learned as much off-camera during reporter
Joe Trahan's
interesting piece on a facelift for the TPC links in Irving, site of the annual Byron Nelson golf tournament.
"Now Delkus tells me he started one game in minor league ball and he pitched a no-hitter," Hansen told viewers. "Now I'm really sorry I brought it up."
Anchor
Gloria Campos
immediately chimed in as always, once again promoting Hansen's bobblehead doll night at the June 1st Fort Worth Cats game. Viewers got to see the thing on Thursday's 10 p.m. show, with Delkus then making fun of it. Hansen had retaliated by showing an old autographed minor league card of his foil.
Iron
John McCaa
, who's trying hard to be a good "happy talk" teammate, said he could back up Delkus' claims that he'd tossed a no-hitter. "That is a true story, you know."
He of course didn't get to finish his story Friday because Campos filched the punchline. 'It's on that one (baseball) card you got," she said.
McCaa fought back: "The ball fell off the tee," he said.
"It was a tee ball game," said a giggling Delkus.
"Nobody cares about that," Hansen jabbed, ending another of Belo8's nights at the improv.
Copious googling couldn't determine whether Delkus actually pitched a minor league no-hitter. He was a very formidable relief pitcher, however, during his first two years with the Minnesota Twins organization.
In 1988 with the Class A Kenosha Twins, Delkus had a microscopic 0.26 ERA, allowing just two runs in 68 innings pitched.
He was almost as good the next year with the Double A Orlando Twins, leading the league with a 1.87 ERA.
Moving up to Triple A ball, Delkus got knocked around a bit with the Portland Beavers, finishing with a mediocre 4.18 ERA. Injuries then plagued him throughout the 1991 season before he blew out his elbow during spring training the following year.
Starting Monday, the Twins will be in town playing the Rangers for the final three nights of the May "sweeps" ratings period. You couldn't ask for a better happy talk setup. Maybe Delkus can show up in uniform on closing night.
During the serious portion of Belo8's newscast, investigator
Brett Shipp
batted leadoff with a look at the seemingly lax treatment of former drag racing legend Gene Snow. Currently running an "adult novelty" store, he had been charged with sexually molesting a boy during a six year period from 2000 to 2006. But Snow eventually received only probation and a $300 fine, which didn't please law enforcement officers.
Shipp and Fox4 gumshoe
Becky Oliver
have turned in the best investigative work during this latest hotly contested ratings sweeps.
NBC5 doesn't have an investigative team anymore. The station specializes in quick gulps, holding stories to 90 seconds or less and usually packing in plenty of crime and tragedy.
On Friday, though, the Peacock had just seven stories of that ilk in its first segment before anchor
Jane McGarry
teased the station's invariably laughable collection of health and consumer news.
NBC5 reporter
Scott Friedman
, usually assigned to the news blues, switched gears to give viewers an informative piece on a new tractor that can pull commercial jets around like toys. D-FW Airport was the first to get the new transporters, which looked very impressive in action. They supposedly will save airports six million gallons of fuel a year.
Meanwhile, CBS11 dove headlong into the crime and tragedy cesspool after first committing the sweeps' biggest gaffe. Anchor
Doug Dunbar
was billed as "
Tracy Rowlett
" in print during the opening seconds of Friday's 10 p.m. newscast. That hasn't been true since March 2nd, when Rowlett ended his 10 p.m. tenure at CBS11 and began co-anchoring the 5 and 6 p.m. newscasts.
He wouldn't want to be a part of what's going on now anyway. CBS11 rolled out 12 consecutive crime and/or tragedy stories before the first commercial break. Then it added another three, making it 15 in a row before toweling off just a bit with an update on child runaway Alyssa Frazier. She was found apparently unharmed after a heavily publicized Amber alert and fears that she had been sexually violated or killed.
It should be noted, though, that CBS11 continues to have the best and most thorough reporting on Thursday's murders of two Henderson County deputies. On Friday the station had an exclusive interview with the accused assailant's parents, who declined to be shown on camera.
They apologized for their son's actions while talking to reporter
Bud Gillett
, a greatly unsung veteran who wasn't credited with the 10 p.m. portion of the interview but did get an on-camera "byline" during CBS11's early evening newscasts.
Fox4 topped its 9 p.m. newscast with the story of a woman who had left her two preschool children home alone for more than an hour. An elderly neighbor phoned 911 after finding a three-year-old walking outside and crying for her mother. He first checked to see if anyone was home, though.
The woman later was arrested, with custody of her children given to their father. Reporter
Brandon Todd
tried to get an interview but instead got an angry retort from a man inside the woman's house.
"Our family right now is being torn apart and you have come in here for gossip," the man said.
"Gossip?" Todd asked.
"Yeah, gossip!"
At the very least Fox4 overplayed this story by leading its newscast with it. Somehow that seems like a good place to end.