Izzard flails about, and the crowd roars
04/01/08 09:36 PM
All wound up while winding it down at the Majestic. Photos: Ed Bark
By ED BARK
Comedian/actor Eddie Izzard and his iPhone played the Majestic Theatre in Dallas Monday night.
The place was packed and the audience pumped. Good for them -- and for him, too. He seemed to be more than a bit off of his free association game at times. Still, he held the crowd -- and recurringly his iPhone -- in the palm of his hand.
"You had a program that was all about you -- that documentary that was on in the '80s," he said, quickly striking that fool-proof Ewing oil.
Izzard's discombobulated riffs didn't always work to perfection or anywhere near it. But few are better at working a fan base. People yelled, Izzard responded. He didn't take affront, he simply played along. And that helped him to get more than enough laughs en route to making it through the night.
His iPhone was used to dial up wikipedia on topics ranging from the city of Dallas to who invaded whom way back when.
"I know so much crap," he said near the end of a roughly two-hour show. "I've Hoovered wikipedia."
Izzard maneuvered on an unadorned stage barren of even a bottle of water or other liquid refreshment. He began by simply walking out unannounced, nonetheless getting an instant standing ovation before billing himself as "just your average transvestite comedian at work."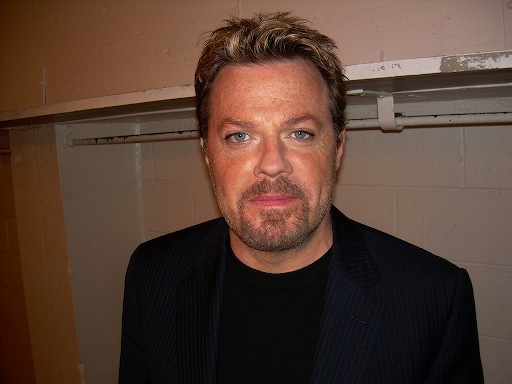 Izzard up-close backstage just before playing to a packed house.
Izzard, 46, also is lately known as a traveling gypsy con artist impersonating a wealthy dead man on FX cable's
The Riches
, which had its strike-shortened second season premiere on March 18th. Just seven of the planned 13 episodes will air this season, with Izzard playing opposite Minnie Driver on Tuesday nights at 9 (central).
He barely mentioned the series -- and only when prompted -- during his Majestic performance. Instead he ranged far, wide and back again on topics that included JFK (from whom he kept backing away), Noah's Ark, Spartan warriors and their sheep, Hooters, prehistoric creatures, caveman dialogue, Moses and an envisioned "Texas monkey drive."
Much of his humor seems to be grounded in his firm belief that there's no heaven or any form of life hereafter.
"I think the God and the devil is inside everyone," he said to applause.
Izzard is schedule to be back at the Majestic on June 5th as part of his "Eddie Izzard Stripped Tour." His comedy always will be far more stream of consciousness than planned attack. Still, it wouldn't hurt to be just a bit more focused -- and funny for that matter.
Most of the material from Monday's show would simply play dead in print. It's Izzard's showmanship and everyman qualities that still make the sale for him. A little more comedic discipline, though, would be to the benefit of one and all.