Local Nielsen ratings snapshot (Tues., Oct. 19) -- the Rangers will average 1 million viewers for a game when pigs fly (P.S. PIGS FLY!)
10/20/10 09:57 AM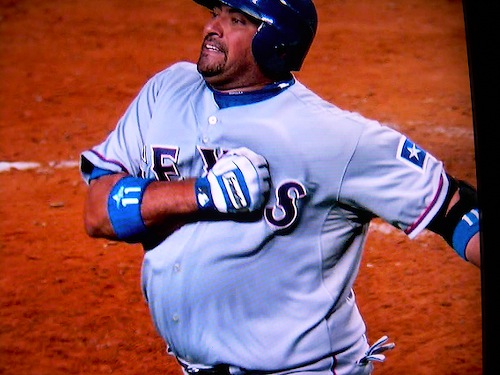 Bengie Molina thumps chest Tarz-style after 3-run HR. Photo: Ed Bark
By ED BARK
The Texas Rangers at last poached on Dallas Cowboys territory Tuesday night by averaging a million-plus D-FW viewers on TBS cable for their 10-3 route of the Yankees.
Officially, the count is 1,038,855 viewers for a marathon game that stretched from 7:07 to 11:13 p.m. A previously unheard of peak audience of 1,205,072 viewers were on hand from 10:15 to 10:30 p.m. Toiling in relative obscurity: the D-FW sports anchors reporting live from New York during that time while the Rangers and Yankees kept playing.
The locals weren't even contractually allowed to use footage from the game. Or as latent baseball groupie Dale Hansen put it on WFAA8 while standing outside Yankee Stadium: "This one was incredibly crazy. A lot of wild plays -- and we can't show you any of 'em." He then segued to a canned TCU football team story while the Rangers pounded bumps on Yankee relief pitchers en route to a 3-1 lead in the ALCS.
Tuesday night's second most popular attraction, CBS' ever-resilient
NCIS
, managed to attract 387,839 viewers.
The Rangers again reigned supreme at the expense of 10 p.m. local newscasts, all of which had trouble getting noticed. WFAA8 led with 207,771 viewers, followed by CBS11 (117,737), NBC5 (110,811) and Fox4 (69,257).
Fox4 doesn't mind, though. It gets the World Series. And if the Rangers are in it, that's a guaranteed mega-ratings haul.
In other local news derby results, NBC5's 10 p.m. local edition led the pack among 25-to-54-year-olds, the main advertiser target audience for news programming on most stations.
NBC5 and Fox4 split the golds at 6 a.m., with the Peacock winning in total viewers and Fox4 tops with 25-to-54-year-olds before the 7 to 9 a.m. portion of its
Good Day
again slaughtered the three network morning shows in that demographic.
WFAA8 won at both 5 and 6 p.m. in total viewers but couldn't hold onto the gold with 25-to-54-year-olds. CBS11 won in that measurement at 5 p.m. while NBC5 took first at 6 p.m.