Pete 'n' Dale sideshow resumes; new campaign for Daybreak begins
07/01/09 01:56 AM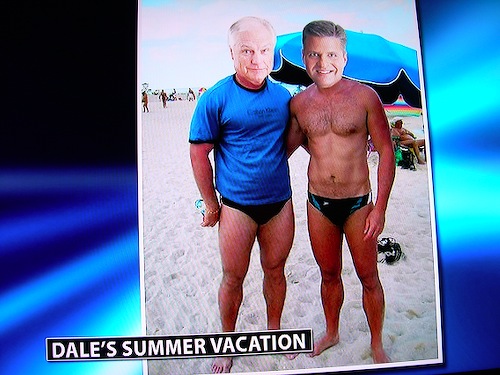 Pete 'n' Dale on display during Tuesday's 10 p.m. news. Photos: Ed Bark
By ED BARK
WFAA8 sports anchor Dale Hansen returned from his month-long vacation Tuesday, also ending viewers' respite from the almost nightly 10 p.m. newscast hijinks between him and weathercaster Pete Delkus.
Big Pete could hardly wait to show an array of doctored pictures depicting "Dale's Summer Vacation," climaxing with the above shot of the two of 'em playing handsie in the sandsie. News anchors Gloria Campos and John McCaa also laughed it up while your friendly content provider wondered what more can be said that
hasn't been already
.
WFAA8 isn't about to cease and desist. On the contrary. So let 'em keep acting like goofballs, and we'll see where it all leads. Those who claim they're sick of their shtick should be smart enough to have switched stations at this point. Those who eagerly await their banter will be overjoyed to see Pete 'n' Dale together again. As the 10 p.m. ratings get ever closer, there's a lot riding on which side wins out.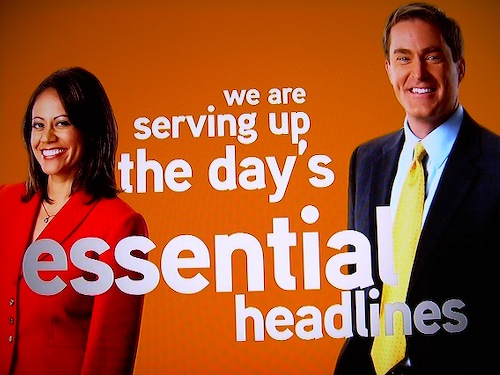 WFAA8 also has launched a new promotional campaign for its early morning team, with the spotlight primarily on news anchors Cynthia Izaguirre and relative newcomer Chris Flanagan.
The station continues to run third in this key battleground, with NBC5 leading and Fox4 slipping to second while continuing to rotate a series of in-house co-anchors after the late February departure of Megan Henderson to KTLA-TV in Los Angeles.
Judging from the above visuals, Izaguirre and Flanagan are striving to be almost as fun-lovin' as Pete 'n' Dale. Wow, look at 'em do "The Bump" in that "Summer Survival Guide" logo featured on wfaa.com.
There's also the inventive tribute song performed in honor of Izaguirre by a smitten Granbury kindergarten teacher.
Daybreak
closed out a recent edition with it while she beamed and nodded to the beat. And frankly, after listening to it a time or three, it sure beats another "Rumble in the Plaza" with Hansen-Delkus. So have a look and a listen. And given the subject matter, don't pretend you could do any better.