WFAA8: Playing hardball with the mirror ball before dancing the corporate quick step
05/20/09 11:25 AM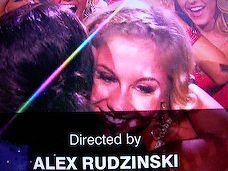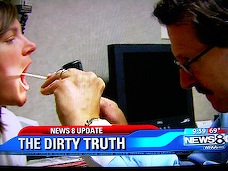 WFAA8 made a decidedly abrupt switch Tuesday night. Photos: Ed Bark
By ED BARK
It's not often these days that WFAA8's 10 p.m. newscast gets a big, fat ratings lead-in from its ABC network.
But when that happens, viewers beware. You might be in for a decidedly abrupt, mood-shattering cut-away, as was the case Tuesday night.
Fans of
Dancing with the Stars
were watching former Olympic gymnast Shawn Johnson bask in the glow of her newly won mirror ball trophy while competitors group-hugged her. Host Tom Bergeron started to say something when -- whammo -- WFAA8 cut from a closeup of Johnson to a promo for a story about visiting your MD at the risk of your health.
"You go there to get better, but you could be getting sick!" anchor Gloria Campos teased at 9:59 p.m. before the newscast began. "The dirty truth about your doctor's office!"
Viewers weren't particularly served by this gamesmanship. But this was the second-to-last night of the May "sweeps" ratings period. And WFAA8 was intent on protecting a narrow lead in the total viewer Nielsens against arch rival CBS11.
"We will easily win Tuesday night," a commenter calling his/herself "WFAA Insider" said in reaction to a previous story on the closeness of the 10 p.m. ratings race. "On big ABC nights we cut out of the network credits early to keep the lead-in audience. It's a smart move and (the) ABC network doesn't care that we do it. Watch closely Tuesday night."
Which we did. We also watched WFAA8 capitalize on its corporate relationship with
The Dallas Morning News
. Not surprisingly it was the only station to be given audio of the newspaper's extended jailhouse phone interview with Cristal Taylor, who claims she was Dallas Mavericks star Dirk Nowitzki's fiancee and is pregnant by him. She's now in a Beaumont lockup.
WFAA8 reporter Rebecca Lopez piggybacked onto the prominently played story, by the
DMN
's
Brad Townsend
.
"I am pregnant and I'm afraid and I'm alone because Dirk is nowhere to be found," Taylor said in part via audio billed as "Courtesy:
DMN
."
NBC5 made a brief reference to the interview and credited the
DMN
in a reader by anchor Mike Snyder. Fox4 did likewise, although anchor Steve Eagar said that Taylor's remarks were "for a combined story in
The Dallas Morning News
and the
Fort Worth Star-Telegram
."
That's basically true, even if both newspapers continue to camouflage their content-sharing relationship, which began late last year. In the
DMN
, Townsend was billed as a staff reporter for the paper. In the
Star-Telegram
's identical story, he was a "special contributor" with no other identification. Fox4 also is a content-sharer, in a recently inked partnership with NBC5 and KDAF-TV ("The 33").
CBS11, currently not sharing with anyone, was alone in ignoring the Taylor interview entirely on its Tuesday 10 p.m. newscast. But Taylor's claims that she is both pregnant and was engaged to Nowitzki were first reported earlier this month by J.D. Miles on the CBS11 Web site.
Still, omitting any mention of the
DMN
interview, which has lots of new details, seemed odd at best for a station that otherwise has been all over the story.
WFAA8 of course played it to the max, dancing the synergistic quick step with its across-the-driveway corporate cousin after bailing on the
Dancing
finale faster than Pete Delkus can strip down to his shirtsleeves for a weather bulletin.
All's fair in ratings warfare, even if viewers sometimes get shortchanged a bit. And on Tuesday night, WFAA8 dug some high heels into CBS11's neck.