WFAA8 puts up stop sign for Daybreak traffic reporter Shane Allen (updated with information on a surprise "different direction" he referenced)
08/02/14 10:10 AM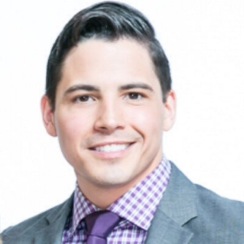 By ED BARK
@unclebarkycom on Twitter
It's a no-go for Shane Allen.
WFAA8 has dropped him as its early morning
Daybreak
traffic reporter after a stint that began in March when incumbent Alexa Conomos joined Ron Corning at the program's anchor desk and eventually was named to that position full-time.
Allen, who also has worked as a researcher on NBC5's investigative team, posted the news on his Facebook page, saying that Friday was "my last day on air at WFAA."
"The station has decided to go (in) a different direction for traffic reports, and I have to respect that," Allen said. "I hope you'll welcome the new person with the same kind words you did me. I wish WFAA nothing but the best."
WFAA8 news director Carolyn Mungo has not responded to an email asking who the new person will be. That's not unusual, but this time there may be another reason beyond management's overall disinclination to share information with unclebarky.com.
Several sources say -- and this is not a joke -- that WFAA8 plans to replace Allen as traffic reporter with a "uniformed cop" with no previous television experience. Several applicants have auditioned for the position, but it's not known whether a decision has been made yet. Some WFAA8 staffers are more than a little apprehensive about what this might do to the station's reputation. But it's always best to wait and see how it all comes off on the air.
Weekend traffic reporter Marlene Hilton filled in on the Monday, Aug. 4th
Daybreak
.
Daybreak
ranked third in the early morning ratings in the May "sweeps," behind Fox4 and NBC5.
Email comments or questions to:
unclebarky@verizon.net