Mavericks return home after referees assist in their Game 4 collapse (And no, they're not "gutless" -- the Mavs that is)
04/25/11 08:39 AM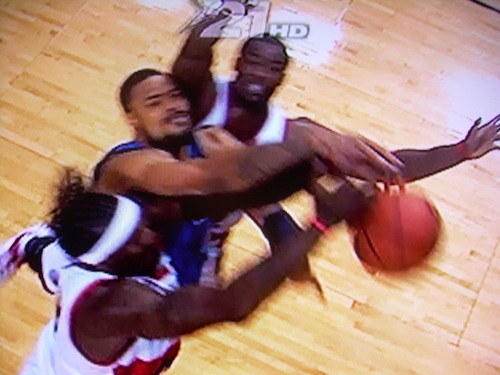 The ball went out of bounds off whose hands? Since Tyson Chandler (center) was involved, the referees of course reversed their initial call and belatedly fingered Chandler in a key turnabout with 49.4 secs. left in Game 4 and the score tied 82-82. Photo: Ed Bark
By ED BARK
Yes, it's all too true. The Dallas Mavericks mostly played like marshmallow Easter bunnies in blowing their big fourth quarter lead at Portland Saturday.
Or to continue the holiday motif, they laid an egg. Had no hops when it counted. Even owner Mark Cuban reportedly quit on them, leaving his bench side seat at the Rose Garden after Brandon Roy put Portland ahead 84-82 with 39.2 seconds left in the game. He later left the building without any comment. Pretty weak.
However . . .
Did the Mavs really put on a "gutless" display, in the words of a knee-jerk
Dallas Morning News
sports columnist who demanded that a "soft" Dirk Nowitzki be traded after the team's embarrassing 2007 first-round exit against Golden State? Did the Mavs again show the world that they're "chokers?"
Let's take a quick look at other NBA playoff results over the weekend.
In the Western Conference, The No. 1-seeded San Antonio Spurs lost at No. 8-seeded Memphis, which now has a 2-1 lead in their series.
The No. 2-seeded Los Angeles Lakers lost to the injury-wracked, vastly under-sized, No. 7 New Orleans Hornets, evening their series at two games apiece.
In the East, the No. 4-seeded Orlando Magic again went down to the No. 5 Atlanta Hawks, who now lead their series 3-1. The Magic had six consecutive first round exits until finally beating the Toronto Raptors in the 2008 post-season. Then they were wiped out by the Detroit Pistons. Despite regular season success and superstars such as Shaquille O'Neal, Penny Hardaway, Tracy McGrady and Dwight Howard, they've never won a title.
This doesn't negate what happened to the Mavs on Saturday. And it's also sobering to note that the Boston Celtics likewise had a 23-point lead against the Knicks Sunday afternoon before seeing it shrink to 4 points with seven minutes left in the 4th quarter. But Boston regrouped under savvy coach Doc Rivers and ended up winning by double-digits while eliminating New York.
In contrast, Mavs Rick Carlisle didn't seem to know how to restore order Saturday. And it's small consolation that he took much of the blame for the team's reversion to crepe paper defensive play after a stellar third quarter had Portland down by 23 points at one point.
Carlisle can't control the officiating, though. And three pivotal calls down the homestretch of the fourth quarter all went against Dallas. It seemed to provide further evidence that NBA officials have very long memories and haven't forgotten Cuban's constant ridiculing of them in seasons past. In short, they'll find a way to screw him if they can. I really believe that, and Cuban really has no one to blame but himself.
One of the key calls was against Tyson Chandler, who's pretty much been victimized throughout the series. He stole the ball in the backcourt and clearly never even touched the Portland player in the eyes of both TNT and TXA21 commentators. He was called for the foul anyway -- his 5th. Perhaps one of those five fouls actually was legitimate. It's tough to play with your trademark aggressiveness when the officials repeatedly are whistling you for what amount to fingernail scratches.
Call No. 2, on Nowitzki, came with 2:16 left in the game and Dallas still leading 80-74. He drove to the hoop, scored and seemingly was fouled for what looked like a likely three-point play that would have stretched the lead to an imposing nine points. Instead, to the surprise of both national and local commentators, the officials called a charge on Nowitzki. Terrible. And it further fueled Portland's momentum. If that call goes the other way -- which it should have -- Dallas wins the game.
Then came Chandler-gate, as he battled Portland forward Gerald Wallace for a loose ball under the Mavericks basket with 49.4 seconds left and the score tied. The refs initially ruled that Wallace was the last to touch the ball before it went out of bounds. Then they reviewed the tape. In such cases, evidence is supposed to be "conclusive" for any call to be reversed. It decidedly wasn't conclusive. But since Chandler was involved, the call was reversed and the ball awarded to Portland, whose on-fire Brandon Roy went on to make the winning shot before Cuban slunk off the court and into the Mavs locker room.
"Well, I'd say that's playing to the crowd," commentator Jeff "Skin" Wade said of the call reversal on the TXA21 telecast. Homer or not, Wade was right. Another item: Portland shot 23 free throws in the game and made 22 of them. Dallas was perfect from the line but got only 10 attempts.
After Game 1, Portland head coach Nate McMillan was fined by the league for griping about the disparity in foul calls in the fourth quarter, when Nowitzki went to the line again and again after in fact getting hammered by various Portland defenders. McMillan knows how to pick his spots and make a point. Unfortunately for the Mavericks, Cuban's previous rants against officials have made it virtually impossible for Carlisle to question the refereeing. At this point, that would be crying wolf.
Dallas still should have won Saturday. They blew a chance to all but close out Portland. But when the pivotal crunch time calls all go the other way, you start to wonder if the referees smell your blood and want you to keep bleeding.
This is not a "gutless" Mavericks team, though. And I think they'll show that in a Monday night Game 5 at home that they simply have to win. So will they? Yeah, I think they will. Although the officials could always complicate matters, as could Cuban by sitting so visibly close to the Mavericks bench.
Meanwhile, there are some favored playoff teams in San Antonio, Los Angeles and Orlando that also have some explaining to do. None of them is in any better shape than Dallas at the moment. We'll see how it all pans out.