Local Nielsen ratings snapshot (Thurs., Feb. 11) -- NBC5, WFAA8 top windfall ratings for snowfall newscasts
02/12/10 12:51 PM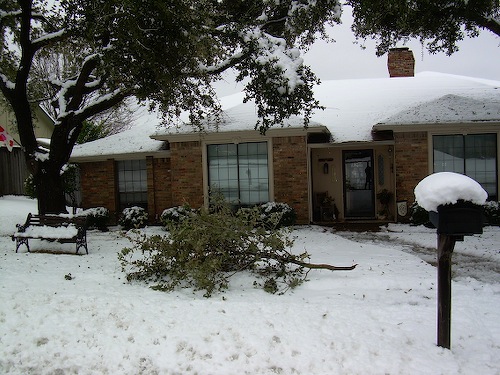 Humble unclebarky.com world HQ survives spate of fallen, snow-laden tree limbs. Please don't send camera crews. Photo: Ed Bark
By ED BARK
D-FW viewers turned out in larger numbers for a snow news day Thursday, with the early morning editions getting the biggest bumps.
NBC5 led the 6 a.m. parade, drawing 264,666 viewers compared to runnerup Fox4's 237,521. The Nielsen numbers on the previous morning were 124,868 viewers for front-running Fox4 and 120,118 for the second place Peacock.
NBC5 also led at 6 a.m. Thursday among 25-to-54-year-olds, the main advertiser target audience for news programming. Its audience in that demographic more than doubled Wednesday's.
WFAA8 topped the 10 p.m. field in both ratings measurements, drawing 373,247 total viewers compared to 217,162 for Wednesday's late nighter.
WFAA8 also swept Thursday's 6 p.m. news battles while NBC5 did likewise at 5 p.m.
Thursday's other big winners were ABC's
Grey's Anatomy
, the two-hour premiere of CBS'
Survivor: Heroes vs. Villains
and CBS'
The Mentalist
.
Grey's
was the day's biggest draw, with 447,896 total viewers.
Survivor
had 400,392, thumping ABC's
The Deep End
in its first hour before losing to
Grey's
from 8 to 9 p.m.
The Mentalist
then dominated the 9 p.m. total viewers competition with 407,178. But it narrowly lost to ABC's competing
Private Practice
among 18-to-49-year-olds, the preferred advertiser target audience for non-news programming.
NBC's twin repeats of
The Office
from 9 to 10 p.m. barely registered with 61,077 and 47,504 total viewers. NBC5's 10 p.m. newscast more than tripled that lead-in, but still ran fourth in total viewers on what turned out to be veteran
Jane McGarry's last night as co-anchor
. NBC5 took the bronze at 10 p.m. among 25-to-54-year-olds, though, dumping CBS11 into the bottom slot.