CW33's Nightcap to be supplanted by NewsFix
11/25/13 07:25 AM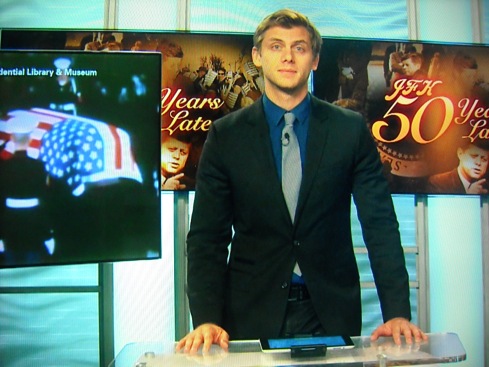 Charlie Behrens anchored Friday's JFK-themed Nightcap. Photo: Ed Bark
By ED BARK
@unclebarkycom on Twitter
Uncertainty coated with chaos has long been the norm at Dallas-based CW33. So here we go again.
According to several sources, staffers were informed last week that
Nightcap
, the station's 9 p.m. comedy-infused "Different Kind of News," will soon cease to exist. It will be
replaced by NewsFix
, which currently is in full view on Houston's KIAH-TV (CW39).
NewsFix is an anchor-less, newsreel form of news presentation in which an off-camera narrator leads viewers along. It requires fewer staffers, although those still employed at Tribune-owned CW33 are hoping this won't be another major purge.
"Exactly who is staying and who, if anyone, is going, remains to be seen," said a staffer.
As part of the transition, KIAH producer and former reporter Steve Simon will be joining CW33 as the station's new news director. Denise Killian, no longer with CW33, was the latest to cling to that position. Joe Young, who had been KDAF-TV's (Ch. 33) general manager since 1995, retired last month. His successor is Roger Bare, who is doubling as KIAH's general manager.
There's no definite timetable for the onset of
NewsFix
, which will be produced in CW33 studios while also continuing to share material with KIAH. But sources expect the switch-over by spring of next year at the latest.
Friday's uncommonly sober edition of
Nightcap
, on the 50th anniversary of President Kennedy's assassination in Dallas, was anchored by Charlie Behrens with an assist from meteorologist Kevin Roth, who joined the station in early October.
Nightcap had its CW33 premiere
on Nov. 1, 2012 after about half of the station's news staff was cut loose. It was hosted by Spencer Harlan, Danielle Vollmar and Amanda Salinas.
Salinas, who remains with the program for now, was the lone holdover from
CW33's previous and somewhat more traditional newscast
. The other three featured personalities, all of whom have either left or been laid off, were co-anchor Walt Maciborski, meteorologist Rebecca Miller and sports anchor Dave Crome.
Nightcap
has been severely ratings-challenged since the outset. The Thursday, Nov. 21st edition drew just 11,363 D-FW viewers, with 6,188 within the advertiser-prized 18-to-49 age range. In sharp contrast, Fox4's competing 9 p.m. newscast had 269,849 viewers with 123,755 in the 18-to-49 demographic.
(For the Houston angle on this story, here's a link to blogger
Mike McGuff's post
.)
Email comments or questions to:
unclebarky@verizon.net