A soon to be post-Oprah WFAA8 has no current plans to join the 4 p.m. local news game
05/01/11 11:05 AM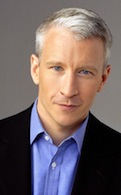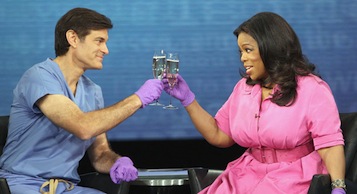 Anderson Cooper and Oprah Winfrey protege Dr. Mehmet Oz.
By ED BARK
Dallas-based WFAA8 and
The Oprah Winfrey Show
have been joined at the late afternoon hip since the second term of Ronald Reagan's presidency. Yes, it's been that long.
Now the end of days is nigh, with Winfrey ending her quarter-century in daytime television on May 25th before reruns linger through the summer.
So what should WFAA8 do with the freedom to make its own bed from 4 to 5 p.m? From this perspective, the ABC affiliate should join the late afternoon local news game and battle NBC5 and CBS11. But unless WFAA8 belatedly reverses course, that's not going to happen in the near future.
The station's president and general manager, Mike Devlin, says that the station's current plan is to start September with the
Dr. Oz
show at 4 p.m. and Anderson Cooper's new talk show preceding it at 3 p.m. WFAA8 has a one-year deal with Cooper and a multi-year pact with
Dr. Oz
, who like
Dr. Phil
got his start as one of Winfrey's recurring featured players.
Dr. Oz
(whose full name is Mehmet Oz) currently is preceding
Oprah
at 3 p.m. weekdays on WFAA8. His show didn't exactly light up the February "sweeps" ratings, running fourth in that time slot behind CBS11's
Dr. Phil
, NBC5's
Ellen
and Fox4's double dose of
Judge Joe Brown
. And
Dr. Oz
had a lead-in advantage going into the hour from ABC's preceding
General Hospital
.
Devlin told unclebarky.com that the 4 p.m. local news field already is crowded enough. And that the station thinks it's wiser for now to counter-program NBC5 and CBS11 rather than try to establish another local news presence at that hour.
During the peak of Winfrey's powers, WFAA8's early evening newscasts greatly profited from the huge lead-in advantage she gave them from 4 to 5 p.m. But in the past few seasons, her numbers have decayed and her reruns have multiplied. During the February sweeps, a month's worth of new
Oprah
episodes won the time period, with NBC5's newscasts a competitive second. But repeats of
Oprah
often finish an out-of-the-money fourth while NBC5 and CBS11 offer a fresh product every day.
Neither station has increased its on-camera staff to accommodate the 4 p.m. newscasts. And unlike WFAA8, both collect all of the commercial revenues from those locally produced programs.
The local newscasts on NBC5 and CBS11 also free those stations from the tyranny and uncertainty of syndicated programming. What's going to work? And if it does work, how much more is it going to cost to keep a hit program in place? Via a series of long-term deals, WFAA8 basically has been stuck with
Oprah
in good times and bad. Is it wise to keep going that route with a syndicated replacement -- and from the
Oprah
family no less?
Let's take a quick look at how Fox4 has prospered by expanding its number of local newscast hours after Fox took ownership of the former CBS affiliate in 1995.
None of the general managers at WFAA8, NBC5 or CBS11 can openly admit that their stations would be far better off in Fox4's shoes from 7 to 9 a.m., when the last two hours of its locally produced
Good Day
easily outdraws
Today, Good Morning America
and the long-languishing CBS
Early Show
. In fact, for the February sweeps,
Good Day
had more 25-to-54-year-old viewers (the main advertiser target audience for news programming) than those three network shows combined. That's a big mega-mooing cash cow.
Fox4 also has local news at 5:30 p.m., where in February it ranked No. 1 with 25-to-54-year-olds ahead of the network evening newscasts on NBC5, WFAA8 and CBS11. And Fox4's 9 p.m. local newscast regularly outdraws one or more of the network entertainment shows at that hour. In the February sweeps, it ran second behind only CBS' array of potent crime dramas.
So in this view it makes sense to make your own bed whenever possible in times when the ratings for both network and syndicated programming continue to shrink. Does the market really need another local newscast at 4 p.m.? No, probably not. But does WFAA8 need to make that move at some point? In this view, yes.
For at least the near future, though, the station is planning to hitch its 4 p.m. hopes to
Dr. Oz
, which supposedly will get more production money because of its higher visibility and time period upgrades in a post-
Oprah
world. Still, there's no time like the present to control your own destiny.
WFAA8 has a storied news legacy and a latter day willingness to send its reporters around the country in pursuit of stories with local angles. But it's not yet ready to go the extra mile with a 4 p.m. newscast. Or as Oprah would say, that "Aha Moment" hasn't yet arrived.