Iron Mike Rawlings? He cannily picks his spot in a mayoral race against Dallas' former top cop
03/15/11 06:23 AM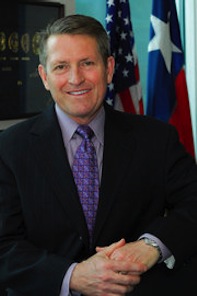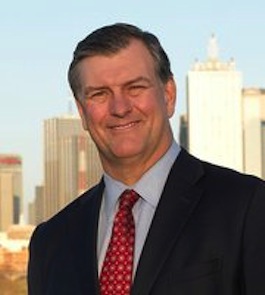 Mayoral candidates David Kunkle, Mike Rawlings in Facebook photos
By ED BARK
First impressions tend to be important. And in his inaugural TV ad, Dallas mayoral candidate Mike Rawlings looks more like the city's top cop than the former top cop he's running against. Namely David Kunkle.
Bull-necked and dressed in police blue, Rawlings appears imposing and billy club ready while laying down his law in a 30-second spot that's lately popping into local newscasts.
"During tough financial times, it's not what ya say, it's what ya do," says the man whose initial group of endorsers includes Roger "Captain America" Staubach." And of course, raising taxes is not an option. They all say that.
Rawlings is full front and center, with no visuals other than Iron Mike's industrial-sized mug and a tree that looks a little emaciated in comparison. His closing tagline: "Because real leadership is all about solutions."
Kunkle, a lean, fit fitness freak with an equally preternatural full head of hair, has yet to fire off his first TV ad. He's not known as a riveting public speaker, but will need to put on a good show after Rawlings' opening image-enhancer. The guy looks as though he could step into the lead role of
Blue Bloods
after first making a beat cop of Tom Selleck.
Well, maybe that's exaggerating just a bit. But Rawlings seems to be trying to position himself as the perceived manliest man in this race. When you run against the former Dallas police chief, it's best not to look too tweedy.
Here's the spot: