Local Nielsen ratings snapshot (Thurs., Oct. 13) -- deflating loss, deflated numbers for Rangers
10/14/11 11:04 AM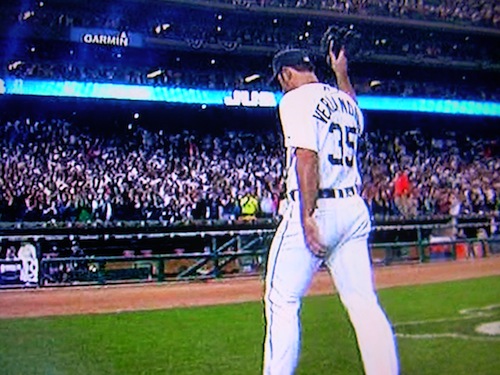 Tigers starter Justin Verlander exits to earned ovation. Photo: Ed Bark
By ED BARK
Some things just aren't debatable, even though Rangers manager Ron Washington still disagrees that he left wobbling starter C.J. Wilson in too long.
He's wrong and you could see it coming. Wilson served up a back-breaking two-run homer to Delmon Young in the 6th inning, giving the Tigers a 6-2 lead. The end result was a 7-5 Detroit victory that easily could have been otherwise. So there'll be a Game 6 back in Arlington after Thursday's Game 5 registered the lowest ratings of the ALCS series. An average of 636,765 D-FW viewers tuned into the Fox telecast, which ran from 3:22 to 6:43 p.m. The previous low was 704,506 viewers for Game 1.
Game 5 had a higher peak audience, though, with 934,826 viewers watching a ninth inning Rangers rally fall short. Game 1 still has the smallest peak crowd -- 873,859 viewers.
In the prime-time Nielsens, Fox's
The X Factor
and CBS' comedies and crime drama fought for ratings supremacy from 7 to 9 p.m.
CBS' new episode of
The Big Bang Theory
edged
X Factor
from 7 to 7:30 p.m. by a score of 392,898 viewers to 372,576. The second half-hour of
X Factor
then nipped a
Big Bang
rerun before the closing hour solidly outdrew CBS' runner-up
Person of Interest
(365,801 to 264,190).
CBS'
The Mentalist
then topped the 9 p.m. field.
X Factor
reigned with advertiser-favored 18-to-49-year-olds, though, winning its entire two-hour segment before ABC's
Private Practice
ran first at 9 p.m. in this key demographic.
ABC's 7 p.m. lead-off hitter,
Charlie's Angels
, again was Thursday's lowest-scoring prime-time show among 18-to-49-year-olds. And that includes CW's
The Vampire Diaries
and
The Secret Circle
. Halo, it must be going. And
Angels
almost certainly will be history by the time of the November "sweeps."
In local news derby results, WFAA8 ran the table at 10 p.m. by winning in both total viewers and 25-to-54-year-olds, the main advertiser target audience for news programming.
Fox4 did likewise at 6 a.m. before its evening editions again were rubbed out by baseball. WFAA8 swept the 6 p.m. Nielsens in a three-way race. At 5 p.m., NBC5 and CBS11 tied for first in total viewers, with the Peacock alone in first with 25-to-54-year-olds.