"THE FAN" radio greenlights Jane Slater, ends her traffic reporter stint at WFAA8
05/24/12 04:40 PM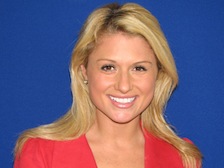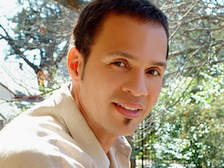 Jane Slater and Chris Arnold will be audiophiles at 105.3 THE FAN.
By ED BARK
@unclebarkycom
Jane Slater has put a stop to her part-time early evening traffic reporting on WFAA8 and is joining 105.3 FM radio (THE FAN) as a midday sports talk host.
Her partner, from 10 a.m. to 2 p.m. weekdays on
Elf and Slater
, will be radio veteran Mark Elfenbein. Slater replaces former Texas Rangers play-by-play man Josh Lewin, who left earlier this year to become the voice of the New York Mets.
Slater, formerly a freelance news reporter at CBS11, migrated to WFAA8 in April of last year to do traffic briefs on the station's 5 and 6 p.m. weekday newscasts. She also continued to work at Dallas-based KRLD-AM radio (1080) as a morning drive reporter. Both radio stations are owned and operated by CBS radio.
Slater has a sports background as a sideline reporter for the Southland Conference Television Network. Raised in Rowlett and a graduate of the University of Texas at Austin, she also covered sports during previous tenures at TV stations in Tyler, TX and Denver.
CBS Radio also announced Thursday that Chris Arnold, longtime arena host for Dallas Mavericks home games, will be joining THE FAN on
The G-Bag Nation
show, which airs from 7 p.m. to midnight. His partner will be incumbent Gavin Dawson.
"Their characteristics, personalities and unique perspectives emphasize our goal to be the voice of the man diverse sports fans across North Texas," CBS Radio vice president of news/talk/sports programming said in a publicity release.
Both of the new shows are scheduled to start on June 4th.