This just in: A night in the lives of D-FW's 10 p.m. newscasts (Mon., Nov. 20)
11/21/06 11:48 AM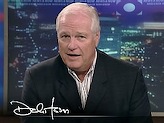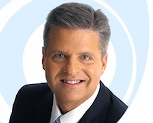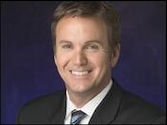 More fun 'n' games with Belo8's Dale 'n' Pete. Meanwhile, CBS11's J.D. Miles had Monday night's most jarring story.
By ED BARK
Visceral, jaw-dropping video is the siren song of television news. And it's all the better for any station making a "clean kill" with a bonafide exclusive.
CBS11 reporter
J.D. Miles
delivered the goods on Night 13 of the November "sweeps" with a top-of-the-10 p.m. newscast report on SWAT team raids of three illegal Dallas poker parlors. The brute force used in these raids -- smashing down doors, breaking windows, bellowing at terrified card players -- raised a big question about the strong-armed police tactics deployed to thwart non-violent crime. You can see for yourself
here
.
Miles responsibly reported both sides of what he called law enforcement's "less than delicate approach." Police contended that a "full SWAT approach" is necessary whenever weapons could be involved in busts of large groups of people. They also said the games can "bring problems" to a community.
Don't tell that to some of the players, though, particularly a traumatized woman who hid her face while saying, "It did scare me to death."
CBS11's cameras caught another man pleading, "I'm so scared, sir, please." He said he'd only been watching, not playing.
Miles was the only TV reporter along on the raids, which netted 20 arrests and 83 citations. Police lately have been cracking down on poker parlors, he said, with 152 tickets issued so far this year, and just eight last year.
Fox4 and Belo8 had no coverage at all. NBC5's
Randy McIlwain
did his best to put together a story from the outside looking in. He showed day-after damage to a SWAT-battered building and interviewed a
"poker journalist"
who said the raids were excessive and driving the games further underground.
NBC5 and Belo8, in a tightening race for the 10 p.m. ratings leadership, otherwise seemed to be in a bullet train race to win the night's highest story count honors. Excluding weather and sports, the Peacock zipped through 26 stories while its ABC competitor fired back with 23. CBS11 comparatively took its time with 17 stories. Fox4, whose 10 p.m. newscast is five minutes shorter than its competitors, chalked up 15.
Despite its fast and furious pace, NBC5's newscast omitted the day's two big talkers -- Fox's cancellation of its planned O.J. Simpson specials and former
Seinfeld
star Michael Richards' racially charged diatribe at a comedy club, for which he apologized that night on a pre-taped CBS'
Late Show with David Letterman
.
NBC5 also was the only station to ignore Emmitt Smith's recent win on ABC's
Dancing with the Stars
. The message is clear: TV stories tied to rival networks aren't deemed news on NBC-owned Channel 5, even if they're otherwise making headlines around the country.
Fox4 had major coverage of the Simpson controversy, noting in no small measure that criticism of the specials came from some of Fox's biggest stars, including Bill O'Reilly and Geraldo Rivera.
"It was a terrible idea to enrich this slob of a double-murderer," Rivera said in part, exhibiting his usual aplomb.
Interview "sound bites" are seldom stretched even that long on NBC5, whose reporters and editors have mastered the art of buzz-cutting to the bone. Consumer reporter
Brian Curtis
showed how it's done in a story on how check-bouncing can be bad for your credit. Here are some of the bitty bites that made it on-air:
"That's not good."
"Good to know, good to know."
"It hurts."
"Hopefully not, hopefully not."
"I've bounced a few."
"Probably. Probably."
Monday night's better work included:
***A thorough story by CBS11's
Jay Gormley on MADD's push for mandatory breathalyzer installations in autos of convicted drunk drivers. The car can't be started until the driver first shows that he or she is sober. Gormley was the only reporter to interview a man who's been driving under such restrictions for several years.

***An interesting look at major renovations coming to the Fort Worth stockyards, with CBS11's Joel Thomas recovering nicely from his Friday night tripe on a goat-man monster.

***Steve Stoler's well-researched Belo8 report on whether Collin County's "red-light cameras" prevent or provoke more accidents.

***Fox4 reporter Jeff Crilley's followup on a fatal fuel truck wreck that police now think may have been caused by a hit-and-run driver.

***Belo8 reporter Chris Hawes' piece on latter day "bold bank robbers" who aren't even trying to conceal their identities from security cameras.

NBC5's Kristi Nelson receives an honorable mention for at last emerging from the dark of night to narrate a story on what to look for in food labels. Amazingly, she did the story from the warmth of the station's studios. For no apparent reason, Nelson previously has been sent into the moonlit outdoors to report live on silicone breast implants and about how two jelly donuts can have fewer calories than a cream cheese-slathered bagel.

Belo8 anchor Gloria Campos had the night's blooper of note, telling viewers that the Zip-ity Do Dolly can be a dangerous Christmas gift.

"Buttons can fall off," she said, "causing a shocking danger, er, choking danger."

The word "shocking" is an instrumental part of a news anchor's vocabulary, so Campos can be excused this once.

Belo8 sports anchor Dale Hansen and weatherman Pete Delkus got dicier during a little dustup near newscast's end. Delkus had been talking about a cold front coming in, but was still forecasting highs of 68 degrees. Hansen found this amusing.

"And there's the turkey for Dale," Delkus retorted, referring to a cartoon gobbler perched above the Thanksgiving Day forecast. "He's got a running commentary over there ... I don't know what he's thinking, but I can only imagine."

Hansen isn't one to let anyone imagine what he's thinking.

"I'm sittin' here thinking about this cold front," he told Delkus. "Sixty-eight degrees. Oh my goodness. He went to meteorology school to come up with that!"

Delkus gamely kept chuckling. One of these days, though ...