Aguilar vs. Fox4 -- she loses on all counts as the Dallas-based media trial closes its books (updated)
12/13/10 04:57 PM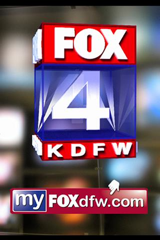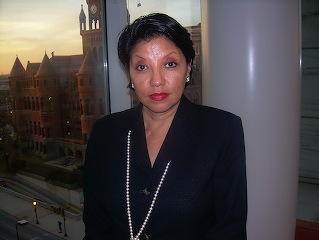 Rebecca Aguilar lost in court against her former employer Monday.
By ED BARK
Rebecca Aguilar's civil suit against Fox4 ended emphatically in favor of her former employer Monday afternoon when a 12-person jury ruled unanimously against her.
Deliberations lasted only about one hour, a swift verdict considering the six-day length of the trial in a downtown Dallas courtroom. Jurors found that NW Communications of Texas, Inc., parent company of Fox4, had not parted ways with her on the basis of racial discrimination or in retaliation for her periodic efforts on behalf of hiring minority news managers.
"You heard a week's worth of testimony," Fox's head attorney, Michael Shaunessy, told unclebarky.com outside the courtroom shortly after District Court Judge Jim Jordan announced the jury's decision in the oft-acrimonious case. "KDFW (Channel 4) did everything it could to make her a good employee. In the end they couldn't save her from herself."
Shaunessy also said, "The speed of that verdict speaks volumes."
A distraught Aguilar quickly left the courtroom area. Her lead attorney, Bill Trantham, said simply, "You win some, you lose some."
In a subsequent reaction posted in the "Comments" attached to this article, Aguilar said in part, "I realized it was an uphill battle with the army of attorneys and paralegals that Fox brought in to take me on. I knew it was also an uphill battle with a jury made up of 11 white people . . . This was never about money. This was about making sure that when a corporation chants 'equal opportunity' for all, it means it. Not just lip service.
"Fox took my job, but it can never take away my voice and my passion for journalism. I hope I inspire others not to work or live in fear. I lost in the court of law, but not in the court of life."
Fox4 general manager Kathy Saunders, prime target of Aguilar's wrongful termination suit along with vice president and news director Maria Barrs, said outside the courtroom that "KDFW believed in the defense of this case. We are very happy with the outcome, and now we can move on."
Barrs added, "I'm really sad that this came to this. But I'm glad it's over. And the station and the newsroom are going to move on."
Aguilar was suspended with pay by the station on Oct. 16, 2007, the day after her controversial exclusive interview of then 70-year-old West Dallas salvage business owner James Walton. She approached him in a sporting goods store parking lot, where he had a new shotgun in his possession after previously shooting and killing two alleged burglars within three weeks time. Her nearly 14-year career as a Fox4 reporter officially ended on March 6, 2008, when Fox4 exercised its option to drop her at the halfway point of her latest two-year contract.
Aguilar was paid her salary throughout that period under a standard "pay or play" provision in reporters' contract. The station also paid her for 90 more days after opting not to pick up the second year of her contract. Her husband, John, continues to work at Fox4 as a newscast director.
In his 45-minute closing argument to the jury, Shaunessy said that Fox4's action solely had to do "with the fact that Rebecca Aguilar for more than 10 years was a bad employee."
The Walton interview, a flashpoint throughout the trial, "was an ambush interview from the start," jurors were told
Aguilar's relationships with fellow employees and supervisors were repeatedly problematic, and her reporting skills also began eroding in later years, Shaunessy said. He noted a previously referenced dustup with Fox4 reporter Emily Lopez, whom Aguilar supposedly had insulted while also allegedly telling an attorney via telephone that Lopez had been fired by the station.
Shaunessy described Lopez, who remains at Fox4, as "a young and frankly beautiful Hispanic reporter" whom the older Aguilar, now 52, supposedly saw as a threat to her.
He also compared Aguilar to former Dallas Cowboys receiver Terrell Owens, whom Shaunessy said "was a lousy employee and he was an inconsistent player who couldn't be trusted."
Race and retaliation had nothing to do with the actions Fox4 took against her, Shaunessy told the jury, ending his closing argument with the words, "Rebecca Aguilar made her bed and she has to lie in it."
Trantham and Aguilar's co-attorney, Chris Raesz, shared the plaintiff's closing argument, with Raesz describing his client as a "thorn in their side" whose verbal and written lobbying for minority news managers made her increasingly expendable.
"When she starts pressing, they start coming in very negative," he said of her written evaluations. The Walton story at first was applauded within the newsroom before receiving heavy criticism via emails and phone calls to the station, Raesz told jurors. "Walton was the opportunity" to get rid of Aguilar, he said.
Trantham, who addressed jurors immediately after Shaunessy had finished, said the evaluations finding fault with Aguilar were "used as an instrument of oppression . . . This non-team employee -- they gave her a raise every time. These people (Barrs and Saunders) have covered up their wrongdoing by blaming her for everything."
Aguilar's salary had reached $129,000 annually by the time she was suspended, attorney Raesz told attorneys told jurors. A requested $2 million judgment, filed by Aguilar's first attorney, Steve Kardell, "ain't out of line," Trantham said, citing Aguilar's ongoing suffering and probable future lost income.
The jury didn't buy it after a trial in which both sides repeatedly swung hard at one another. Among those called to testify were Fox4 anchor Clarice Tinsley and reporter Shaun Rabb for the defense, and reporter Saul Garza for the plaintiffs. A fourth on-camera anchor-reporter, Richard Ray, showed up at the courthouse Monday morning in answer to a subpoena after returning from vacation. But Aguilar's attorneys excused him from testifying after both sides had rested their cases Friday.
Specifically, here are the four verbatim questions the jury addressed after hearing the official Court Charge late Monday morning from Judge Jordan.
Was race a motivating factor in any of the following employment decisions by NW Communications, Inc. regarding Rebecca Aguilar?
A.
Exercising the "pay or play" provision of Rebecca Aguilar's employment agreement. (The jury answered "No.")
B.
Not renewing Rebecca Aguilar's employment agreement. (The jury answered "No.")
Did NW Communications of Texas, Inc. take any of the employment decisions listed below because of Rebecca Aguilar's opposition to a discriminatory practice?
A.
Exercising the 'pay or play' provision of Rebecca Aguilar's employment agreement. (The jury answered "No.")
B.
Not renewing Rebecca Aguilar's employment agreement. (The jury answered "No.")
There was no outward jubilation on the part of either Fox's attorneys, or Barrs or Saunders, both of whom were present. They all then gathered to thank jurors for their service as the nine women and three men moved toward the 6th floor elevators at the George L. Allen Sr. Courts Building. One of the women jurors told Barrs she should write a book about her previously testified
humble beginnings
as one of 13 children born to poor parents.
For now, though, that's all she wrote.