Fox4 tabs Charlotte TV veteran as new news director (updated)
12/15/11 03:49 PM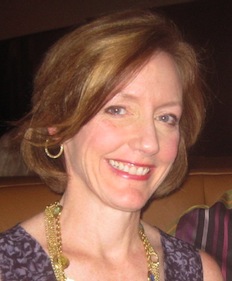 Robin Whitmeyer in Twitter page photo
By ED BARK
Staffers at Dallas-based Fox4 learned Thursday afternoon that Robin Whitmeyer, most recently of WSOC-TV in Charlotte, will be the station's new news director. She's scheduled to arrive in early January.
The position had been vacant, with Bruce Smith serving as acting news director, since
Maria Barrs left Fox4
this past summer to become president and general manager at ABC affiliate KXTV-TV in Sacramento. Her first day in that position was on Aug. 22nd. She had been news director at Fox4 for 13 years.
Fox4 hasn't put out any official announcement of Whitmeyer's hiring, but several station sources have confirmed it. The Charlotte native had been news director at WSOC-TV for eight years before surprisingly departing in February, according to published reports. She had spent 30 years at the ABC station, working her way up from intern to camera operator to newscast producer.
"It's just time. Greener pastures," she told
Charlotte Observer
media reporter Mark Washburn at the time.
(Fox4 president and general manager Kathy Saunders later confirmed Whitmeyer's hiring in a statement. "Robin brings an extensive news and management background to the Fox4 newsroom and the Dallas-Fort Worth market," she said. "We are thrilled that she will be joining KDFW.")
Fox4 is coming off a prosperous November "sweeps" performance in which it ranked No. 1 at 6 a.m. and 5 and 6 p.m. among 25-to-54-year-olds, the main advertiser target audience for news programming. The station also was No. 1 in total viewers at 6 a.m. and tied NBC5 for the top spot in that measurement at 5 p.m.