Mavs-Thunder showcases the post-season's ultimate generational divide
05/16/11 06:27 PM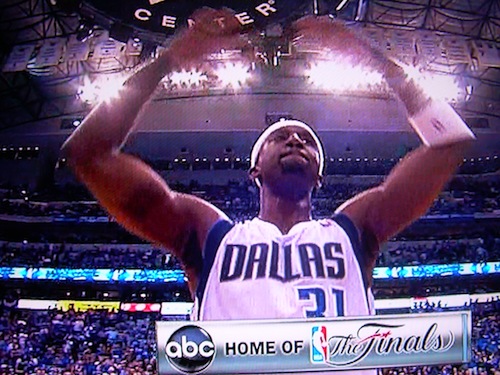 Jason Terry exults after Game 4 blowout of Lakers. Photo: Ed Bark
By ED BARK
It's going to be a battle of the ages.
The young guns from Oklahoma City vs. the Winchester bolt action rifles of Dallas.
Justin Bieber against Tony Bennett.
Megan Fox taking on Betty White.
The Dougie pitted against the Polka.
The trio from
The Hangover
battling to out-joke The Three Stooges.
Anyway you look at it, the Dallas Mavericks are old school father figures to the Oklahoma City Thunder's off-to-college texters.
The Thunder's two big scorers are Kevin Durant and Russell Westbrook, both 22. The Mavericks counter with Dirk Nowitzki and Jason Terry, respectively 32 and 33.
Only two of OKC's players are 30 years of age or older, topped by team Methuselah Nazr Mohammed, 33.
The Mavericks have eight players with 30th birthdays in their pasts, topped by Jason (hardly a kid) Kidd, 38.
That's a 16-year-disparity in point guards, with Kidd easily old enough to have babysat Westbrook. And changed his diapers.
So are all these young pups going to wear out the old pops? Don't count on it. Experience can be a great equalizer while youth is often wasted on the young. And these are prime times for second, third and fourth acts, with Betty White, Regis Philbin, Clint Eastwood and Steven Tyler all embracing renewed high times instead of misty water-colored memories. Hell, Fox is even bringing back
The Flintstones
as a new weekly series.
Nowitzki, Kidd, Terry, Shawn Marion, Peja Stojakovich and Tyson Chandler are among the Mavericks who realize that if they don't get a championship ring now, it may never happen for them. The OKC kids have lots more time to get theirs.
Who among us in Dallas doesn't especially want to see Dirk with a big, broad grin on his face after years of being maligned as a star player with too many deficiencies? Now he's got a tiger in his tank and a blaze in his eyes. He wants it, and we need for him to have that one shining moment atop the NBA heap.
The old Mavericks may have to shake off a little lumbago from those nine days on the beach while the young Thunder battled the Memphis Grizzlies for a full seven games before taking them out Sunday afternoon. But they otherwise should be good to go Tuesday night before a home crowd that needs to be wild 'n' crazy.
So I think the still spry Mavs will have just enough to give Dirk and Jet Terry their second trip to the NBA Finals with a new and savvier supporting cast surrounding them. But they'll need each and every cog for the duration of this series. Any injuries to the core rotation of nine players could mean too many compensatory minutes on-court for one or more of the able-bodied survivors. That's when fatigue becomes a factor, and age can be an enemy.
Otherwise the old folks at home should be able to use that extra game in friendly American Airlines Center to their advantage. Let's show these kids a few things -- and then send them home with a good spanking.