Vintage video of Rowlett's declaration of independence at CBS 11 a sign of how much has changed in the decade since
06/24/10 03:33 PM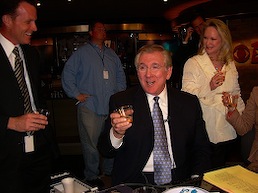 Tracy Rowlett's early days and last 10 p.m. newscast at CBS11.
By ED BARK
Tracy Rowlett had spent a quarter-century at WFAA8 before vacating those premises in 1999 and heading to KTVT-TV, which had just been purchased by CBS.
It was a huge deal back then. And in the years since, we haven't seen anything close to the mega-move Rowlett made in times when well-paid major anchor talent could make even bigger money by switching stations in the same market.
The opposite is true today. No station is willing to dole out that kind of dough. On the contrary, long-running anchors such as NBC5's Mike Snyder are being cut loose after first taking a major pay cut while being demoted to lesser watched newscasts. As previously reported,
Snyder's last day
will be on July 1st. Other veteran anchors, including his longtime partner, Jane McGarry, can also feel the hot breath of the Grim Downsizer.
Rowlett made his official CBS11 debut at the start of the February 2000 ratings "sweeps" after being benched for several months by a non-compete clause. Meanwhile at WFAA8, he became a virtual non-person. So much so that an extensive pictorial history displayed in the ABC affiliate's lobby remains without any image or mention of him. Some WFAA8 staffers still only refer to him with an expletive in the mix.
In the below clip, newly posted on youtube, Rowlett's closing remarks on his inaugural CBS11 newscast are notable for mentioning a local TV competitor. That just isn't done today -- at least not in this market.
"I never thought I'd be at this station at this time doing what I used to do at another station for a very long time," he said before quickly adding, "I don't intend to rehash all that business about leaving Channel 8."
But in extolling the value of competition, Rowlett later took a none-too-veiled shot at both his ratings-dominating old employer and
The Dallas Morning News
.
"If one TV station assumed such a lofty position that it controls the news agenda, it's as dangerous as, say, just one newspaper in a big city," he told viewers.
CBS11 came close in a few sweeps periods, but never accomplished what Rowlett dearly wanted -- a No. 1 position in the marquee 10 p.m. competition. But the station finally won for the first time ever last November, with Rowlett's successor, Doug Dunbar, teaming with his holdover anchoring partner, Karen Borta. The station repeated as champ in the May sweeps, adding a win among advertiser-courted 25-to-54-year-olds to its first place finish in total viewers.
Rowlett left CBS11 in July of 2008 to become head anchor of Shale.TV, a then under-construction website being sponsored by Chesapeake Energy Corporation. That was another stunner, and he was
sharply criticized by this writer
for making such a move. Rowlett kept saying he'd been promised full editorial control in the venture. But Shale.TV never materialized, with Chesapeake citing a lousy economy and
Rowlett later contending
that the scrapping of the venture also may have been a belated aversion to that promised editorial independence. Chesapeake continues to insist that's not the case.
Rowlett lately has been teaching broadcast journalism courses at Southern Methodist University. He doesn't miss television news "as it is today," he says. And in truth, television news doesn't miss his salary either.
Still, it's hard to believe it's been nearly two years since Rowlett signed off at CBS11. And it's now more than a decade since he first signed on. With Snyder's forced "retirement" coming at the end of next week, here's a look at the impression and points Rowlett tried to make during that opening night voyage on CBS11. It hardly seems like old times any more. Instead it seems like ancient history.