#MeToo era forms of sexism -- on the part of women in positions of power at Fox4, TEGNA8
05/08/18 03:04 PM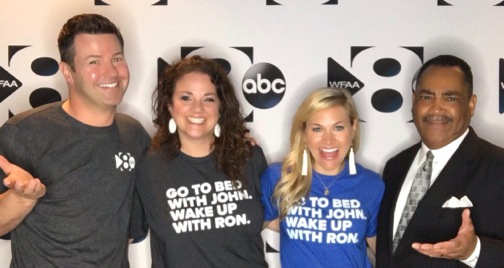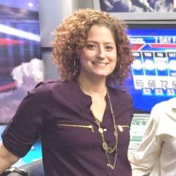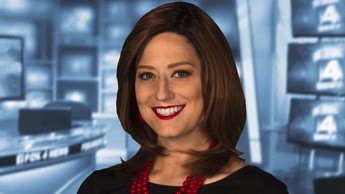 TEGNA8's new t-shirt campaign & Fox4 meteorologist Jennifer Myers with her natural curls and the wig she's required to wear on the air.
By ED BARK
@unclebarkycom on Twitter
Your friendly content provider isn't overly fond of juggling with hand grenades.
But as an independent critic free of constraining corporate overseers or content-sharing partnerships, I'm free to speak my mind without having to run my words by any thought police.
So here goes.
First of all, the #MeToo movement has exposed a lot of male rats while also being guilty of some excesses. But for the most part, some heinous sexual predators have been weeded out of the movie and TV business, with more certain to come.
In this post, I'm not talking about predators. But I am going to cite what to me seems like flat-out sexism at two Dallas-based TV stations, Fox4 and TEGNA8. Key difference: the practitioners are women in positions of power.
Today's
earlier exclusive post
on Fox4 weekend meteorologist Jennifer Myers' decision to leave the station mentioned her continued aversion to wearing a straight-haired wig on the air over her naturally curly locks. She's not a public crusader by any means. But Myers has put up a Facebook behind-the-scenes video in which she's shown with her naturally curly hair before putting on a skull cap and then combing out her red wig. Also, a grassroots campaign of sorts,
"Compel Fox4 to Free Jen's Curls,"
was initiated last year on Facebook.
"This page is not managed or affiliated with Jen," one of its instigators makes clear. "This page is put together by people who find it cruel to make her damage her hair by straightening it, or force her to endure daily ridicule by wearing the wigs."
Myers, who's set to leave Fox4 sometime this month to become the meteorologist for North Texas-based ONCOR Electric, has been doing the weekend
Good Day
weathercasts since arriving in July 2012. It's assumed by many that the bosses behind Fox4's on-air no-curls mandate must be chauvinistic, neanderthal male oppressors. But they're not. They're women. Vice President/General manager Kathy Saunders has held those positions at Fox4 since 1997. And Vice President/News Director Robin Whitmeyer has been in place at Fox4 since 2011.
The station's laughably dated stance on Myers is in stark contrast to TEGNA8's flaunting of the comparative
wild 'n' curly hair
and other distinctive attributes of early morning traffic anchor Demetria Obilor. TEGNA8 executive news director Carolyn Mungo, as
noted in a recent post
, is all in on the re-tooling of the station's
Daybreak
, which in recent months has surged into second place at 6 a.m. in the key 25-to-54-year-old news demographic.
But Mungo seems to have a blind spot when it comes to new and official TEGNA8 t-shirts emblazoned with "Go To Bed With John. Wake Up With Ron." The references are to 10 p.m. anchor John McCaa and
Daybreak
anchor Ron Corning (posing above with two women wearing the t-shirts).
There is no such companion campaign, however, for the women news anchors at 10 p.m. and on
Daybreak
, respectively Cynthia Izaguirre and Kara Sewell. Hmm. Imagine men wearing t-shirts with this tagline: "Go To Bed With Izzy. Wake Up With Kara." I think there just might be a #MeToo outcry.
Really, though, isn't it a pretty blatant form of reverse
double entendre
sexism to in effect portray McCaa and Corning as sex toys/easy lays? McCaa in particular should have known better than to pose for a picture like this. He's supposed to be the traditionalist, the rock of Gibraltar, the guy who stands firmly in the face of all the nonsense while also trying not to be a participant. But this time he succumbed.
You should know that Mungo never returns messages from this reporter. And that Saunders and Whitmeyer refer all inquiries about Fox4 to the Fox corporate headquarters in New York. Principal spokesperson Claudia Russo at least calls or emails back. But she's steadfast in citing Fox's policy against commenting on any internal personnel problems or the reasoning behind a local Fox-owned station's on-air editorial decisions, such as the
recent dilemma
on whether to lead with Barbara Bush's death or a Southwest Airlines in-flight engine failure that left one person dead.
So there you have it. And the bottom line is this. As is shown in these two cases, women likewise are capable of sexist decisions and policies. In calling them out, I can't help it that I'm a man -- and also an aging old dinosaur in the popular perception of some. But maybe some women will join me. They already have regarding Myers' losing battle with going curly. But TEGNA8's "Go To Bed With" campaign otherwise has gotten off unscathed. And it shouldn't.
Email comments or questions to:
unclebarky@verizon.net