Battah up at Fox4 for first two hours of weekday Good Day
08/29/18 09:22 AM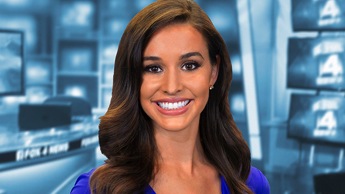 By ED BARK
@unclebarkycom on Twitter
The rapid ascent of Hanna Battah continues.
After joining Dallas-based Fox4 in June
to replace Jenny Anchondo as the weekend
Good Day
anchor, Battah has been bumped up to weekday editions of the show. When
Good Day
expands another hour to 10 a.m. on Tuesday, Sept. 4th, Battah will co-anchor the 4 to 6 a.m. portion of the program and then report during the remaining morning hours.
Incumbent anchors Tim Ryan and Lauren Przybyl get to start their shift two hours later and preside from 6 to 10 a.m., Fox4 announced Wednesday. Meteorologist Evan Andrews and traffic anchor Chip Waggoner will soldier through "the entirety of the newscast," vice president and news director Robin Whitmeyer said in the station's publicity release.
Battah made a quantum leap from Bakersfield, CA's KBAK/KBFX-TV when she joined Fox4. Bakersfield is the country's 126th television market while Dallas-Fort Worth is No. 5 and slowly closing in on No. 4 Philadelphia.
"In the short time since Hanna joined Fox4, she has proven she has the talent and intelligence to take on this important role," Whitmeyer said.
Battah said she's already "felt embraced by our viewers" and is "elated to join the team that wakes up North Texas every weekday and makes the 1 a.m. wake-up call worthwhile."
Battah's 4 to 6 a.m. desk mate is yet to be named, and there could be a series of tryouts for that spot. "It has not been filled yet. We will let you know when it is," a Fox4 corporate spokesperson told unclebarky.com Wednesday.
The 6 to 7 a.m. weekday portion of
Good Day
has been a dominant force in the D-FW ratings and hasn't been beaten on a single day since early spring.
Good Day
also usually outdraws the three competing network morning shows from 7 to 9 a.m.
Fox4 remains the only D-FW station to start its early morning weekday newscast at 4 a.m., which it has been doing since Wednesday, May 9th. NBC5, TEGNA8 and CBS11 all still begin at 4:30 a.m., although that is likely to change at some point.
The new 9 to 10 a.m. portion of
Good Day
will be competing against back-to-back episodes of
Let's Make A Deal
on CBS, the third hour of NBC's
Today
show and TEGNA8's homegrown
Good Morning Texas
.
Email comments or questions to:
unclebarky@verizon.net