When the cliche fits, wear it: A win is a win is a win
10/20/09 10:47 AM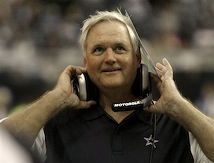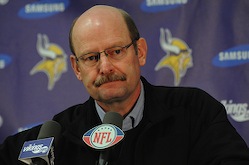 At least one NFL head coach looks less like one than the Cowboys' Wade Phillips. But Brad Childress' Vikings are still unbeaten.
By ED BARK
OK, let's see now. Which of these NFC East teams currently looks better than the much-maligned Dallas Cowboys and their verbally spat upon head coach, Wade Phillips?
Is it the Washington Redskins, who lost at home to the previously winless Kansas City Chiefs and failed to score a touchdown?
Is it the Philadelphia Eagles, who lost on the road to the puke-inducing Oakland Raiders and failed to score a touchdown?
Is it the New York Giants, who were embarrassed 48-27 by the New Orleans Saints in a game that wasn't that close?
Imagine the outcry among D-FW sports commentators had the Cowboys been on the receiving end in any of these three games? The market's two loudest Foghorn Leghorns,
Randy Galloway
of ESPN's 103.3 FM and WFAA8 sports anchor
Dale Hansen
, of course would be having the times of their lives. Not that they already haven't.
Galloway, on his Oct. 12th "Overreaction Monday" edition, was typically eloquent in repeatedly chanting "Cows win, Cows win, Cows stink." That was after the team's admittedly less-than-pretty overtime road win in Kansas City, which made them 3-2. Galloway said Dallas would have been better off losing that one, so that owner Jerry Jones could have fired head coach Wade Phillips during the bye week.
Tim Cowlishaw of
The Dallas Morning News
also wants Phillips outta here and Richie Whitt of
The Dallas Observer
calls him "Stumbledoofus" among other things.
Hansen of course also tore into the Cowboys, saying they gave off a malodorous smell in barely beating one of the NFL's doormats. Winning ugly in this town is tantamount to mooning Roger Staubach at a church fundraiser. It just isn't done.
After the events of this past Sunday, though, it's high time to spout the old cliche and make it stick. A win is a win is a win. And by the way, that narrow and much-vilified Cowboys loss on the road to Denver isn't looking so stinko now that the Broncos are 6-0 after an impressive
Monday Night Football
win at San Diego.
You may wonder why a mere TV critic is daring to express sports opinions. Well, as a former high school sports editor and lifelong sports fan, I'm gonna dare to say I know about as much as any of the above experts. As a native Wisconsinite, my principal allegiance is to the Packers. But with 30 years under my belt in North Texas, I like to see the Cowboys win and figure that should be good enough right now in a league where just about everyone struggles from week to week.
It's true that Phillips is a dumpy looking guy who lacks the ramrod demeanor and taut physique of a Bill Cowher, a Mike Shanahan or the sainted Tom Landry. But if the Cowboys beat Atlanta at Jerry's Palace Sunday -- and you can pretty much bet they will -- they'll be 4-2 and again in the thick of the hunt for a playoff spot. A lot of teams would still kill for that.
December's coming, of course. And if Dallas craters again, then go ahead and burn Phillips, Jones and QB Tony Romo at the stake. But right now, any win should be embraced without "style points," as Galloway says in his rare reasoned moments before again shooting off his cigar-fouled, Cuervo-lacquered mouth.
One more thing. Shanahan and Cowher are both seen as the kind of "authoritarian" coach that Jones again must hire to restore discipline and fear at Valley Ranch.
But Shanahan's firing at the end of last season so far hasn't hurt unbeaten Denver. And Pittsburgh head coach Mike Tomlin won a Super Bowl in just his second year after Cowher resigned as head coach in 2007.
Phillips seems highly unlikely to lead the Cowboys to the promised land. Still, you never really know, as last Sunday's games again showed. I'll of course slit my throat if Green Bay loses on the road to 1-5 Cleveland this Sunday. But that's why I'll also be happy with any kind of a win, no matter how lucky, ugly or "undeserved."