This just in: A night in the lives of D-FW's late night newscasts (Thurs., May 14)
05/15/09 12:35 PM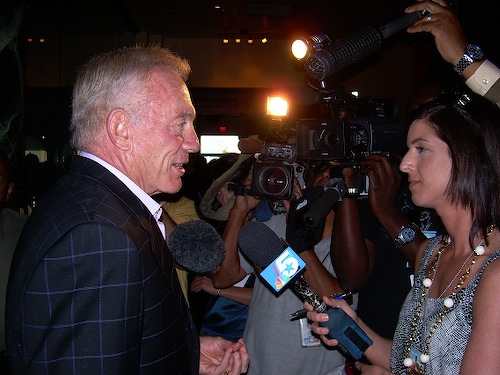 Cowboys owner Jerry Jones with NBC5's Ellen Goldberg. Photo: Ed Bark
By ED BARK
Michael Irvin's past problems are well-documented and seemingly behind him. On Thursday night, he came full circle, receiving the kind of glowing coverage usually reserved in this town for the already canonized Roger Staubach.
All four major local TV news providers converged on Irvin's kickoff party for his new reality competition series
4th and Long
, which premieres Monday on Spike TV.
But the event doubled as a fundraiser for the family of Cowboys scouting assistant Rich Behm, who was paralyzed from the waist down during the May 2nd collapse of the team's air-inflated practice facility. A $40,000 check was presented to Behm's wife, Michelle, from Irvin's Playmaker Charities Foundation and Spike TV. More money was donated in collection jars at the entrance to North Dallas' Sting nightclub.
"Michael Irvin put Rich Behm's needs ahead of his own," Fox4 anchor
Steve Eagar
said before the station led its 9 p.m. newscast with
Sophia Reza
's report from the scene.
"We're coming together when it's one of we that need help. One of us," Irvin told her.
NBC5 also topped its 10 p.m. newscast with the Irvin event. News anchor
Jane McGarry
said it was a story of "how one former Cowboy gave up what was supposed to be his night in the spotlight to benefit Behm."
The station's
Ellen Goldberg
had the requisite quote from Irvin, who told her, "I thought to myself, wow, what a courageous man this is. I know the feeling of laying on that carpet paralyzed." He referred to a career-ending injury against the Philadelphia Eagles, from which he's otherwise fully recovered.
WFAA8 waited until the middle of its newscast to air
Gary Reaves
' report from the party/fundraiser. He didn't spare the superlatives either.
"One guy said it here tonight," Reaves told viewers. "The only thing bigger than Michael's personality is his heart, and we saw that tonight, as he turned his big night into an even bigger night for the family of Rich Behm."
Actually, that "one guy" was Cowboys owner Jerry Jones. Your friendly content provider was standing next to him when he said it.
Reaves noted in closing that "after most of the cameras left the party, Michelle Behm did make a brief statement. She thanked everyone. And then she made a prediction -- that one day her husband will walk again."
At least one camera stuck around. And it belonged to WFAA8's arch rival at 10 p.m., CBS11. It was the only station to catch Michelle Behm's statement as part of a story that received second billing on its 10 p.m. newscast. On CBS11, she said from a makeshift stage, "We've got a long road ahead. But with all the support and prayers from everyone, we'll get through this. And he
will
walk again."
Irvin wasn't entirely selfless Thursday night. The first episode of
4th and Long
was shown in its entirety at the party. Unclebarky.com will have a review -- plus interviews with Irvin, Jones and the show's executive producer -- posted by Monday morning.
GETTING TO THE HEART OF A STORY
-- WFAA8 briefly touched on the city-forced closing of Mesquite's decrepit Classic Inn via video and several seconds of narrative from anchor
Gloria Campos
. In contrast, NBC5's resourceful
Randy McIlwain
, one of the market's better and distinctive storytellers, went to the scene of the grime to report on some of the 104 tenants who are being evicted.
McIlwain mainly focused on an elderly military veteran whom he described as "disabled, divorced and recovering from drugs." He also got the city's side, which basically amounts to the Classic Inn racking up more than 360 code violations before the hammer finally dropped.
"I don't know what I'm gonna do. I may end up just eating all my medications at once and going to sleep," the elderly evictee told McIlwain.
"You really feel that way? You feel that desperate?" he asked him.
"I have nothing else. I have absolutely nothing else," the man lamented.
It was a story that brought home the human cost of shutting down a "fire trap" that nonetheless was still home to some of the less fortunate among us.
A DIG AT AL DIA
-- Shades of
Briefing
. Unwanted copies of the Spanish language newspaper
Al Dia
, published by
The Dallas Morning News
, also are littering some neighborhoods. In this case the Kessler Park area.
The paper is "under fire" for this, NBC5 anchor
Mike Snyder
told viewers. "We found several blocks with papers scattered all over the place."
Two residents complained on camera before Snyder said the
DMN
told NBC5 that people are free to cancel delivery of
Al Dia
. "The paper also told us that as a result of this story, Kessler Park will no longer be receiving
Al Dia
," Snyder added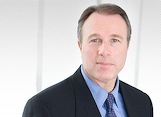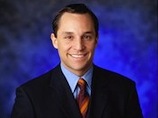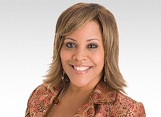 Reporters Jim Douglas, Bennett Cunningham, Debbie Denmon
NICE WORK
-- NBC5's
Deborah Ferguson
had two earlier reports on former Decatur High School student Jackie Murphree, who has serious brain damage after being hit by a drunk driver. Her stories included video-cam footage of Jackie and her father in China, where she received five weeks of experimental treatment unavailable in the U.S. Friends of the family raised more than $30,00 to fund the trip.
Ferguson's initiatives didn't less the impact of reporter
Jim Douglas
's touching story on Jackie's return home Wednesday. Titled "Hope For Jackie," it detailed both the dedication of her father and the heartbreak of having a vibrant daughter's life turned upside down.
***
CBS11 investigator
Bennett Cunningham
excelled again with a report on a North Texas company, Saxon Mortgage, that's racked up hundred of complaints from customers and a grade of F from the Fort Worth Better Business Bureau. One of the complainants, Sheila Williams, took Saxon to court for allegedly ruining her credit. She won a judgment of $4,500, with Cunningham on site to witness the judge's ruling before getting the standard "no comment" from the company's lawyers.
***
WFAA8's
Jason Whitely
, now a frequent flyer on the station's 10 p.m. newscasts, had another winner on a Kessler Park resident who complained about growing noise pollution from the nearby I-30 freeway. Her efforts prompted TXDot to approve $500,000 worth of "quieter asphalt" for a one-mile stretch of the heavily traveled roadway.
SLIM PICKINGS
-- WFAA's
Debbie Denmon
rhapsodized about the "Body Magic" undergarment, which "lifts the breasts, sucks in the waist, similar to a corset." It basically amounted to an infomercial for the manufacturer, with Denmon talking to gleeful users before a Body Magic spokesman contended, "It's an instant result. We're reshaping the body."
Anchor
Gloria Campos
then injected an ounce or two of common sense. "We're told the Body Magic shaper and products like it can be uncomfortable to wear," she said. The story was merely uncomfortable to watch.
SHOW AND TELL
-- Thursday was boy's day out for CBS11 weathercaster
Larry Mowry
and news anchor
Doug Dunbar
.
Mowry threw out a pitch at that afternoon's Texas Rangers game after the station held an in-the-ballpark "Weather Day" attended by some 4,000 students, he said.
Dunbar participated in the Special Olympics Law Enforcement Torch Run during a driving rainstorm. Footage of both activities made the newscast. Whether self-aggrandizing or not, it's preferable to the spectacle of WFAA8's
Pete Delkus
and
Dale Hansen
shooting BB guns, etc. during last week's "Rumble In the Plaza."
SPEAKING OF PETE 'N' DALE
-- Their nightly banter may have a mimic in NBC5, where sports anchor
Matt Barrie
lately has been twitting news anchor Snyder during the times he fills in for
Newy Scruggs
.
Earlier in the week, Barrie made an underwear joke at Snyder's expense, prompting a vigorous retort from the old hand. On Thursday night, Barrie joked that Snyder has had Rangers season tickets since 1911. He later jabbed, "Snyder updates his Facebook status -- during this commercial break."
Over on WFAA8, Hansen acknowledged "My pants are soaking wet" after Delkus primed the pump. He blamed Pete's faulty forecast for his decision to sit on wet cushions outside the studio.
"More than you wanna know," anchor
John McCaa
added.
Four nights to go.