This just in: A night in the lives of D-FW's late night newscasts (Wed., May 16)
05/17/07 05:37 PM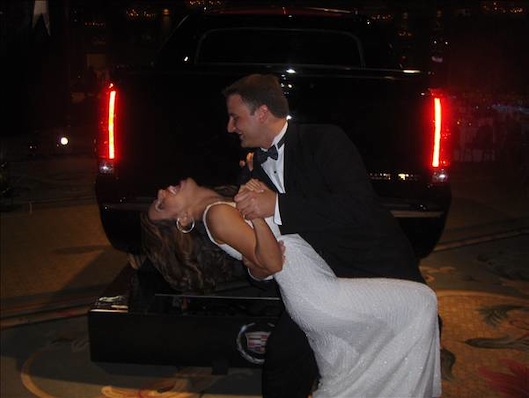 Fox4 consumer reporter Steve Noviello's official station blog includes this picture from a recent Make A Wish Foundation banquet, where his date was Good Day co-anchor Megan Henderson.
By ED BARK
Still not quite sure what to make of this guy.
Fox4's
Steve Noviello
technically is the station's consumer reporter. But he sometimes seems to be auditioning for a red carpet spot on E! Or maybe he'd rather be a correspondent on
Entertainment Tonight, Extra
or
Access Hollywood
.
Earlier in the May "sweeps," Noviello contributed a really dubious segment on
American Idol
fashion, for which his principal source was a "lifestyle guru" who calls himself Stylin' Steve Kemble.
On Wednesday's 9 p.m. newscast, Noviello had the longest piece of the night on "Fox4 prom pics." He then segued to a debt management segment in which viewers could email questions live to imported expert Bettye Banks.
The businesslike Banks seemed to be put off her feed a bit by Noviello, a flamboyant, sometimes rather giddy man when on-camera.
He does get stuff out of people, though. In the senior prom pix piece, medical reporter
John Hammarley
recalled getting hammered with his date.
"Debbie and I had a fair amount of Colt 45 Malt Liquor," Hammarley recalled. "It stayed in my system for a while -- and then didn't."
Others playing along included Henderson,
Good Day
colleagues
Tim Ryan
and
Dan Godwin
, investigative reporter
Becky Oliver
, weatherman
Ron Jackson
and anchors
Steve Eagar
and
Heather Hays
.
It all went on for quite a while on a night when Fox4's newscast seemed too top-heavily tilted in the direction of a lifestyles/entertainment magazine program.
That's because the hour also had an extended, canned recap of the immediately preceding
American Idol
results show. Then came a dollop of gossip on the Carrie Underwood/Tony Romo relationship followed by an update on the seemingly inflated controversy over former
Idol
champ Kelly Clarkson's third CD. Anchor
Natalie Solis called her "Carrie" Clarkson, though. Close, but no Coca-Cola.

Add surveillance camera footage of the so-called "Elmer Fudd Bandit" and stir with a closing "Then There's This" brief on a man named Bob L. Head -- who soon might have his own bobblehead doll.

One of Fox4's better reporters, Jason Overstreet, also miscued during a top-of-the-newscast piece on Rod Mathes, a resident of The Colony who shot that now well-circulated home video of two kids almost being struck by lightning while hustling through the rain.

Overstreet also wanted to interview the two children, but said that a "tabloid TV show" he never named had paid for the rights to an exclusive. One of the kids supposedly was in the same home as the man who took the pictures. But in the presence of Fox4's cameras, the little girl was whisked off by a woman who supposedly worked for the tabloid show.

Fox4 news would never pay for interviews, said Overstreet, who followed the woman and child to a home before ambushing a guy as he drove into its driveway.

"The man of the house refused to discuss the issue with us," Overstreet huffed.

During his closing live standup, though, he told viewers that the tabloid TV show -- and Fox4 for that matter -- had the wrong children in their sights, according to Mathes. If that's the case, then the so-called "man of the house" deserved, but didn't get an on-air apology for being wrongly depicted on camera as a mercenary.

Fox4's 9 p.m. newscast generally offers a balanced mix of spot news, in-depth, enterprise reporting and a little fun. Wednesday's edition simply lost its balance.

Elsewhere, CBS11 sports anchor Babe Laufenberg copped a male chauvinist pig award after a segment that showed colleague Gina Miller deftly fielding ground balls during a tryout for ball girls at Rangers Park.

She looked good, said the Babe, " 'cept she throws like a girl."

Anchor Karen Borta gamely laughed along while partner Doug Dunbar cracked, "Not touchin' it," while doing a fingertip zip of the lips.

After a commercial break, Borta sorta admonished Mr. Former Second-String Pro QB. "How 'bout that Babe Laufenberg. Throws like a girl," she said with just a bit of a hitch in her voice.

Any extended multi-anchor banter is a rarity on CBS11, Fox4 or NBC5. But it's become a way of life on Belo8, where weatherman Pete Delkus usually throws the first pitch at sports guy Dale Hansen before anchor Gloria Campos automatically injects herself into the mix.

On Wednesday night, Big Pete noted that he'd made a lunchtime public appearance during which he told the gathering that Hansen regularly tells him "what a hottie he used to be back in the day."

He then showed a vintage snippet of Hansen in which he had both his hair and a still firm jawline.

"What happened?" Delkus jabbed.

Hansen had a Grade-A, self-deprecating comebacker.

"That was only three months ago," he said.

Belo8 closed shop with a shot of the throng gathered outside of the station's Victory Park studio.

Except there were only two smiling, waving men. Many nights it's like that.