This just in: A night in the lives of D-FW's late night newscasts (Fri., May 8)
05/11/09 12:13 PM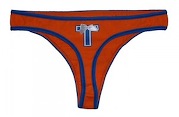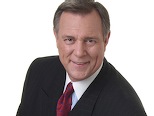 NBC5's Matt Barrie, Mike Snyder and "The Teebow"
By ED BARK
Most of the wacky anchor banter resides at WFAA8, where weathercaster
Pete Delkus
and sports anchor
Dale Hansen
ridicule each other on an almost nightly basis.
Occasionally, though, a rival station's personalities go a little pea-nutty. On a mostly uneventful Friday, caffeinated NBC5 sports guy
Matt Barrie
, pinchhitting for
Newy Scruggs
, injected news anchor
Mike Snyder
's name into a discussion of a new underwear line,
"The Teebow,"
tied to Florida Gators quarterback Tim Tebow. They're billed as being "perfect for that Gator gal in your life."
Barrie branded the "obsession" with Tebow "disgusting" before showing a pair. This prompted a startled "Ooh" from co-anchor
Jane McGarry
before Barrie rear-ended Snyder.
"It just goes to show you that college football can inspire all kinds of tushies, even Mr. Snyder's," he said rather puzzlingly.
"Inspire!?" said Snyder, all aghast.
"Do you wear that kind?" McGarry wondered.
That got Snyder's undie-divided attention, launching him into an over-the-top brief on his behalf.
"That's not my stuff, folks," he protested. "Mm mmmmmm boy! That's not my stuff for sure. I'll leave that to you and Matt. OK? OK."
"Boxers," McGarry then deduced.
"Yes," said Snyder before a commercial break stepped in.
DIRK'S THE EASY PART
-- Friday also is the night for Fox4's extended "Viewers' Voice" segment. Otherwise known as "Holy crap, these are our viewers!!!???"
A caller named Terry tried to get in the grill of anchor
Steve Eagar
on the proper pronunciation of Dirk Nowitzki's surname.
"I got news for you, Mr. Steve Eagar," he opined. "The guy's name is Now-inski. No-winski. Ain't got a v in it."
"Really? Quite a fan, are ya?" Eagar retorted before jokingly resorting to a film clip from the "Bridge of Death" sequence in
Monty Python and the Holy Grail
.
"Sorry, Terry, it's Na-VIT-ski, " Eagar then concluded.
Actually, commentators and reporters are all over the place on this. Fox4's own
Sophia Reza
pronounced it "No-WIT-ski" in her initial reporting on the Dallas Maverick star's woman woes. So did WFAA8's
Jason Whitely
.
On Saturday's ESPN telecast of the Mavs' Game 3 against Denver, play-by-play guy Dan Shulman pronounced it "Na-VIT-ski," as did the halftime analysts. But Shulman's teammate, commentator Doris Burke, went with No-WIT-ski, as did floor reporter Nancy Lieberman.
NBA.com's
"International Players Pronunciation Guide"
says it's Na-VIT-ski.
The path of least resistance is to just say Dirk. Which also can be pronounced Derk. Or Durk.
GOING APE
-- As noted previously, it was a largely uneventful Friday, save for the "tornado watch" warnings topping all four late nighters. NBC5 even resorted to a
Scott Gordon
story about a construction site plumber who found a primate skull about five feet underground. He plans to keep it, but is open to bids "if the price is right," Gordon told viewers.
NBC5's Snyder later cited unnamed sources telling the station "that Nowitzki is the one who hired the private investigator to check out Cristal Taylor." Maybe its source is CBS11, which broke that aspect of the story earlier in the week.
TOUGH CALLS
-- A DeSoto High School football player remains partially paralyzed after suffering a spinal cord injury on the practice field. Obviously everyone wishes the very best for him. But Fox4 reporter
Emily Lopez
became almost histrionic in telling viewers of the 16-year-old's fighting spirit.
"Those close to him say he is a soldier, a
warrior
, a person who
refuses
to give up in the face of adversity," Lopez said, adding extra enunciation to the words "warrior" and "refuses." You really don't have to over-sell a story like this. A calmer approach would be far preferable.
Later in the newscast, Fox4's
James Rose
reported in depth on the Garland father who murdered his 10-year-old son in the woods before also killing himself.
"Neighbors say (Matthew) Knapp was a dedicated and loving father," Rose said.
It's not Rose's fault if that's really the way they feel. But how many viewers had a polar opposite reaction? From this perspective, the guy wasn't a loving father at all, but rather a spineless coward who snuffed out a 10-year-old boy's life. It's too bad Rose couldn't have found someone to say that in so many words.
BRAIN GAIN
-- "You asked for good news. We deliver tonight," CBS11 anchor
Doug Dunbar
said by way of introducing an upbeat story by reporter
Jay Gormley
.
He reported on a Seagoville High School senior "with a keen eye for science" that paid off at a "boot camp" for like-minded students. In this case, Candace Turner examined the DNA of children with congenital heart disease and found four mutations among 100 samples. If they prove to have medical relevance, they could help lead to early detection of the disease, Gormley said. Sounds good to me.
END GAME
-- WFAA8's Hansen and Delkus "thankfully" -- as anchor
Gloria Campos
put it -- wound up their five-night "Rumble In the Plaza" by playing Guitar Hero to the tune of The Eagles' "Hotel California."
It's unclear who "won" this climactic faceoff, but Delkus said that more than $10,000 was raised on behalf of Children's Medical Center and the downtown Dallas YMCA. Those who want to donate $20 or more can still get an official "Rumble" T-shirt.
"We've got plenty of 'em," Campos noted.
Eight nights to go. Until next time, here's the closing night's Guitar Hero clash: