Local Nielsen ratings snapshot (Fri.-Sun., Sept. 9-11) -- Cowboys again excel in ratings, collapse on field (updated)
09/12/11 10:19 AM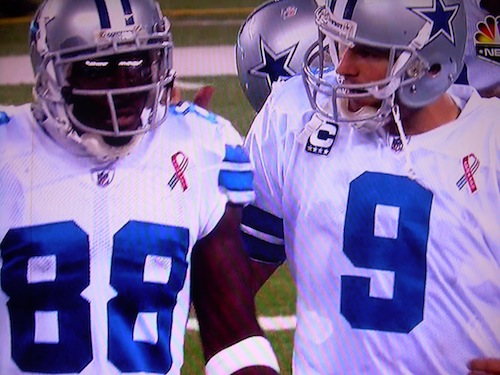 Romo & Dez wonder what hit them after killer miscue. Photo: Ed Bark
By ED BARK
Again excruciatingly entertaining in defeat, the Dallas Cowboys gave away another
Sunday Night Football
opener while surpassing the D-FW audience for last season's 13-7 gaffe-fest at Washington.
The 27-24 loss to the New York Jets on NBC averaged 1,634,465 viewers, up from the 1,574,422 who watched Dallas let the Redskins win the 2010 regular season kickoff under the Peacock's prime-time banner.
Just over half of the viewers for Cowboys-Jets -- 835,812 -- were in the motherlode 18-to-49 age range. The game ran until 10:40 p.m. and included a fourth quarter in which the Cowboys blew a 14-point lead via a Tony Romo fumble and interception, plus a blocked punt returned for a touchdown by the Jets.
Romo again took all the blame during a post-game interview, but that act is getting more than a little old for many Cowboys fans. NBC analyst Tony Dungy got to the nub of it with this assessment of Dallas: "They can't get right to the doorstep, and then fold up like this."
Nationally, the game was the most-watched
Sunday Night Football
attraction ever with 25.8 million viewers, says NBC. That edged the Dec. 12, 2010 average of 25.73 million for the Cowboys-Eagles game. Four of the five most-watched
SNF
games involve the Cowboys. NBC has had the Sunday night package since the 2006 season.
However, the audience for Cowboys-Jets did not surpass either of NBC's last two Thursday night "NFL Kickoff" games. The 2010 matchup between the Vikings and Saints drew 27.5 million viewers while last Thursday's Packers-Saints opener had 27.2 million.
In Sunday's other D-FW pro football ratings, Fox's mid-afternoon Redskins-Giants game averaged 630,239 total viewers while the network's noon starting Eagles-Rams matchup had 464,022. On CBS opposite Eagles-Rams, the Baltimore Ravens' blowout of the Pittsburgh Steelers averaged 304,731 viewers locally.
Over on Fox Sports Southwest, the first-place Texas Rangers' Sunday afternoon win over Oakland was the equivalent of a sacrifice bunt, with just 124,663 viewers.
The most-watched weekend Rangers game, Friday night's win over the A's on TXA21, drew 193,920 viewers. Saturday's afternoon/early evening loss to Oakland on Fox was right behind with 186,994 viewers.
NBC had the largest D-FW audience for its Sunday morning coverage of the 9/11 memorials. An average of 117,737 viewers tuned in, with ABC running second (76,183 viewers).
In Friday's local news derby results, CBS11 topped the 10 p.m. field in total viewers but NBC5 won among 25-to-54-year-olds, the main advertiser target audience for news programming.
Fox4 ran the table at 6 a.m., did likewise at 5 p.m. and added a 6 p.m. first with 25-to-54-year-olds. WFAA8 had the 6 p.m. spoils in total viewers.