Local Nielsen ratings snapshot (Fri.-Sun., May 20-22) -- Mavs get upper hand against OKC, but numbers again fall off
03/23/11 09:43 AM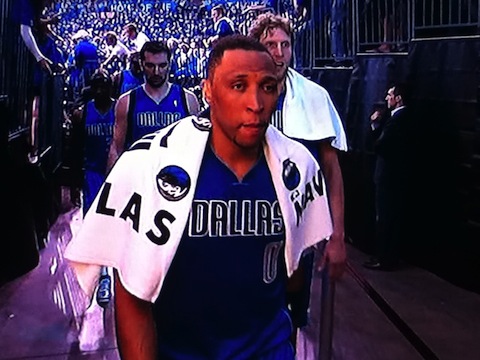 The Matrix led the Mav' Saturday night victory march. Photo: Ed Bark
By ED BARK
Measurements of sports bar viewing remain highly imprecise at best, which might account for some of the Saturday night shortfall for the Dallas Mavericks' defensive-minded playoff win at Oklahoma City.
Still, you'd think that in-home interest at least would match that of Game 2. But not quite. Game 3 on ESPN (8:07 to 10:45 p.m.) averaged 727,199 D-FW viewers, down from 741,050 for Game 2 and 803,381 for the opener of the Western Conference championship series. Dallas now leads 2-1, with two more wins putting the Mavs in the NBA Finals for the first time since 2006.
The game's appeal among motherlode 18-to-49-year-olds also slipped a bit, with 417,906 in this age range watching Game 3 compared to 434,359 for Game 2 and 450,812 for Game 1.
That's still total dominance of the weekend Nielsens. And Game 2 did manage a moral victory with an overall peak audience of 983,449 in the final 15-minute increment. That outpointed Game 2's high point of 941,895.
Game 4 against the Thunder is Monday at 8 p.m. on ESPN, with the competition including the second hour of ABC's final
Dancing With the Stars
performance show followed by the latest season premiere of
The Bachelorette
. Mavs-Thunder will no doubt will whip both attractions, but the overall audience could be diminished a bit before many viewers again take a hike from local 10 p.m. newscasts to watch the game's denouement.
Also on Saturday night, the season finale of NBC's
Saturday Night Live
, with host Justin Timberlake and heavy participation by Lady Gaga, drew a nice-sized 228,548 viewers to easily outdraw all prime-time programming except Mavs-Thunder. But the 15-minute increment of The Preakness on NBC galloped to a surprisingly strong 318,582 viewers early Saturday evening, pulling an appreciably bigger audience than the Kentucky Derby two weeks earlier (
Over on Fox4 Saturday night, the struggling Texas Rangers' road loss to the Phillies (at the hands of former Ranger ace Cliff Lee) managed 152,365 viewers in falling a bit short of CBS' 8 p.m.
Crimetime Saturday
repeat (159,291 viewers). ABC's three-hour reprise of
Spiderman 3
barely wove a web with a scant 48,480 viewers.