New WFAA8 news campaign pledges to ride the range in pursuit of "bringing home the kinds of stories no other local station can"
09/21/10 05:38 PM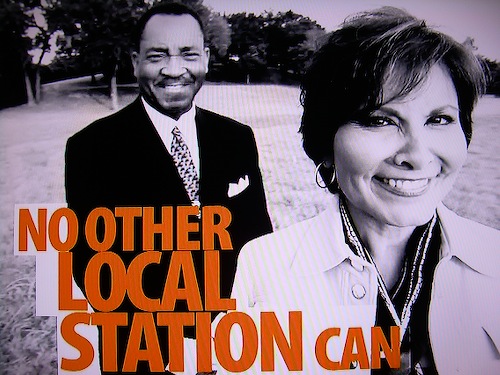 WFAA8's John McCaa and Gloria Campos get out in the field by getting out in a field in new "On the Road" campaign. Photo: Ed Bark
By ED BARK
WFAA8 probably needs to do something step up its game and bulk up its problematic ratings. Step One, an eye-catching black-and-white "On the Road" image spot, aired during the heart of ABC's Monday night
Dancing with the Stars
season premiere.
Accompanied by a mix of acoustic plucks and chainsaw rock, the 30-second ad mostly spotlights veteran anchors John McCaa and Gloria Campos. But it also affords glimpses of reporters David Schechter and Jonathan Betz and early morning weatherman Greg Fields. A closing group shot includes sports anchor Dale Hansen and chief forecaster Pete Delkus, who flank McCaa and Campos.
The ad's succession of burnt orange and sunny yellow taglines informs viewers that the Dallas-based station's anchors and reporters will be rolling through the countryside as a new TV season begins.
"We're heading out," it begins. "Crossing state lines. Seeing new places. Exploring new views. Meeting new faces. Bringing home the kinds of stories no other local station can. Come along for the ride. All this fall."
The only audio, besides the music, is Schechter saying "On the road" in the WFAA8 news room.
So what's going on here? WFAA8 representatives, including news director Michael Valentine, so far have not returned email and phone messages asking for more specifics.
This much is certain. The station's overall newscast ratings generally have been sinking in the demographic most prized by advertisers -- 25-to-54-year-olds. So a vigorous face-scrub -- an attempted rejuvenation of sorts -- seems to be in the cards. You don't make things happen by sitting on your hands, and WFAA8 has a proud news tradition that's worth preserving if possible.
As for "Crossing state lines," we'll see how far the budget will allow that to go. At least Oklahoma's within easy reach. And will the station's two principal news anchors, McCaa and Campos, actually get out there and do some real reporting from the field? Just like they used to in their wonder years?
We'll see what evolves. So far it's a nice-looking spot. And here it is: