Fun with Twitter: "Knoxie" edition
06/10/13 11:32 AM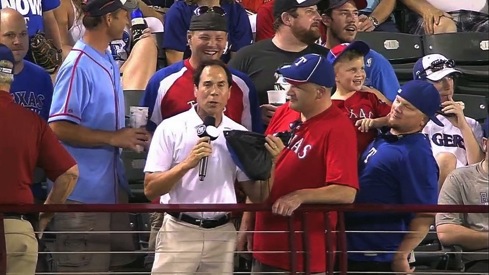 Jim Knox in thick of things at Rangers game. Photo from deadspin.com
By ED BARK
@unclebarkycom
Jim "Knoxie" Knox, the Sideshow Bob of Texas Rangers games, kept threatening to rappel off Toronto's CN Tower during Sunday afternoon's Fox Sports Southwest presentation.
He had milked this gambit all weekend, and your friendly content provider finally snapped. "Could Rangers please put "Knoxie" on DL, too. Please?" I tweeted. "I know he's just trying to cling to job but does anyone out there actually enjoy him?"
As a matter of fact, yes. Here are highlights of the Twitter give-and-take, with Bob Sturm and Mike Rhyner of "The Ticket" among those chirping in.
"Slow down, Ed. Jim stays! --
Bob Sturm
(@SportsSturm)
"Agreed! Most of the time it's an annoying interruption and needless, boring crowd stuff. Very bush league, like cookie talk." --
Jagger
(@JaggerMafia)
"I enjoy most of his bits. That's a tough gig." --
Mauro Diaz
(@Mareeo528)
"That is the hardest job in sports media . . . and that guy brings it big-time every day." --
Mike Rhyner
(@theoldgreywolf)
"Sometimes yes, mostly no. I do think I would enjoy walking around the edge of CN Tower, though, so I liked that one." --
David Swinney
(@davidswinney)
"Yeah, uncle barky has just been unfollowed." --
Justin
(@11SecKnockout)
"Jim Noxious is too much for me. But, the TV crew is sounding more professional overall this season. Please, no Tom's Treats." --
Paul Chambers
(@MovieChambers)
"I love Knoxie." --
Jim Hawg
(@hawg_jim)
"You just want him for the audio gold you mine from his uncomfortable face time." --
Tom Neumann
(@NeumannDadEO) replying to Bob Sturm
"I think one responder's right. You just live for the BaD radio gold & don't want it cut off. Fess up :) --
Uncle Barky
to
Bob Sturm
"The lines are blurred, I admit. But, 162 games at 3 hours each? We have time for 30 seconds of levity." --
Bob Sturm
"Don't mind levity but when does he bring it? Foul ball "Knoxie" on Sat. was awful. Ample comedy if Josh (Lewin) were still in booth." --
Uncle Barky
(As proof,
Sturm
sends blurry picture of Knoxie's recent close encounter with a big dog on its hind legs.)
"FIGHT NIGHT!!!" --
Nathan Hamilton
(@Nate_Hamilton)
"Knoxie's left bicep could take Bark and Bob on at the same time. #hesgotguns --
Robert's Plaid Shirt
(@PlaidShirtDFW)
"Knoxie nation has spoken. But his multi-part CN Tower bit put me over the edge. Prefer Joel Thomas on TXA21 nights. Realize it's tough job." --
Uncle Barky
And there you have it. Let's do this again some time -- when occasions arise.
Email comments or questions to:
unclebarky@verizon.net