CBS11's cougar town throwdown (co-starring slap-happy Jody Dean)
04/06/11 02:45 AM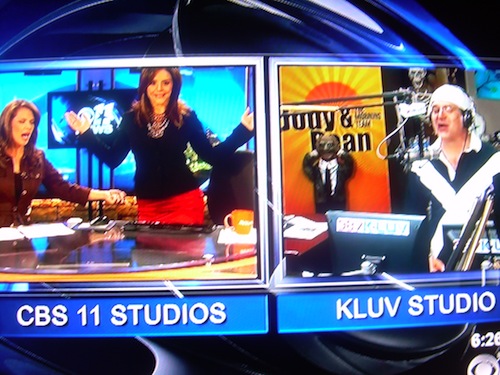 Lisa Pineiro displays her "hoochie skirt," as described by Jody Dean.
Photos: Ed Bark
By ED BARK
Early mornings just haven't been the same at CBS11 since Scott Sams was shown the door last month after four years as co-anchor.
Fans of Sams in turn have
rallied behind him and railed against
the supposedly juvenile "girls" currently running the show -- holdover Lisa Pineiro and traffic reporter Teresa Frosini, who's been doubling behind the desk.
Monday morning's edition of the No. 4-rated waker-upper provided ample ammunition for their detractors during a daily live cut-in segment with KLUV-FM radio personality Jody Dean.
Frosini began by hand-dancing to the Al Green song Dean had in play. Innocent enough. But then Dean started riffing on his topic of the day -- Katie Couric's apparent impending departure as anchor of the
CBS Evening News
.
Dean, still deep into his arrested adolescent phase, wore a backwards ballcap for the occasion but lately has shaved his snow white soul patch. It looks like Scott Pelley will be Couric's replacement, Dean said before one of his crew members added, "Yeah, if you look at TMZ this morning, they're calling Scott Pelley THE guy."
Pelley "actually started here. He started at Channel 8, our noble competition," Dean noted. (Actually, he started at Channel 5 before moving to Channel 8.)
Dean then wondered if anyone even watches the network evening newscasts anymore. "And I would suspect the answer largely is no."
Being a cool guy, Dean said he recently spoke to a group of 500 journalism students, none of whom apparently were Couric watchers. (He also grandly let it be known that he'd been inducted into a hall of fame of some sort. "Me and a couple of other people.")
"Forgive me, guys, but the stupidity of the anchor desk," Dean next blurted, warming to the moment when he'd essentially call Pineiro a whore. Such props are nothing but "this huge authority symbol that separates me the viewer from you the anchors," Dean contended. "We live in a time when most people get their news from people like Jon Stewart." (He works behind a desk by the way.)
"I'm sorry," Pineiro interjected, still playing along. "Can somebody cut Jody off?"
Jody kept going, as of course everyone knew he would.
"We're still doin' it like we did in the '50s and '60s," he lamented. "No wonder nobody watches the network evening news." (Actually more than 20 million viewers still watch on an average night, with last week's 8.8 million viewers for the
NBC Nightly News
far exceeding NBC's woeful prime-time average of 5.4 million viewers per show, according to Nielsen Media Research.)
Pineiro interjected anew. "Would you like me to crawl over the desk and talk to you from in front of the desk?"
"That would be very sexy," Dean riposted. Both Pineiro and Frosini laughed it up.
But Dean wasn't done.
"As news anchors, we wear clothes that nobody wears to work anymore," he said. "Suits and ties and all that other stuff." (Maybe
Nightly News
anchor Brian Williams should try wearing a backwards ballcap on the air, just like Jody.)
Frosini couldn't take it anymore.
"You should see this skirt she's got on," said said, referring to Pineiro and comparing it to something "Jo Lo" might wear. "Look how cute she is. We're goin' to lunch today, and she's wearing that."
Pineiro stood to show off her red skirt before Dean cracked, "I'm sorry. That's a hoochie skirt right there. That's what that is."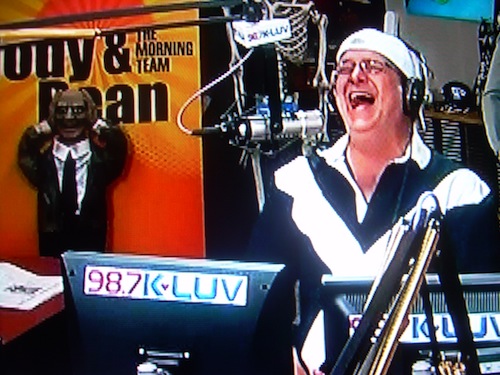 Dean laughs uproariously at his ribald "hoochie" crack.
"Hoochie" is an urban slang term connoting a loose, sexually promiscuous woman. Or borderline prostitute if you prefer. But it was hard to tell whether Pineiro and Frosini were offended or flattered. Pineiro did note, however, that "we just got the official wrap from our producer" regarding the Dean segment. Everyone then had fun with the idea that Dean might not be asked back on Tuesday morning.
"You just never know what he's gonna say," Pineiro finally told viewers, who were assured that Dean in fact would be back.
Meanwhile, CBS11 has been interviewing potential replacements for Sams while also at least mulling the idea of pairing Pineiro and Frosini permanently as early morning's one and only team of at least outwardly frisky cougars.
It might sound chauvinistic to say this. But given what happened during Monday's 6 to 7 a.m. segment, perhaps a reasonably stable male co-anchor is needed to restore a semblance of order. And that man decidedly is not Jody Dean.
ADDENDUM:
To compound matters Monday, meteorologist Jeff Ray, filling in for Garry Seith, had a pretty bad case of bed head.