Gables makes WFAA8 weekend morning debut; station also stages a three-way GOP guv debate
02/01/10 01:00 AM
One day duo: Debbie Denmon and Shon Gables. Photos: Ed Bark
By ED BARK
Dressed for balmier weather in a pink, sleeveless top, Shon Gables dawned on WFAA8 viewers Sunday morning in tandem with incumbent Debbie Denmon.
"I'm the new kid on the block," Gables said on three separate occasions while also repeatedly noting the unseasonably cold weather.
Denmon, who is moving to the station's weekend evening newscasts, agreeably chaperoned Gables' maiden voyage as WFAA8's new Saturday/Sunday AM anchor. From now on she'll be on her own.
Gables, a native Oklahoman who briefly lived in Texas "way back" in 1988, handled her limited duties smoothly Sunday. As
previously posted
, she had been freelancing at WPIX-TV in New York City after a stint from 2003 to 2006 as co-anchor of NYC's early morning newscasts on WCBS-TV.
"You're gonna love it and the viewers are gonna love you," Denmon told her near the end of Sunday's program.
"Well, thank you for passing the torch," Gables said. "You're a wonderful sweetheart."
Enough with the candy coating.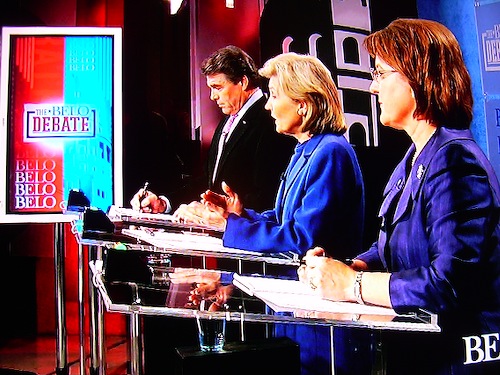 Yes, Texas Gov. Rick Perry actually winked at Sarah Lucero of San Antonio's KENS-TV after answering one of her questions.
No, U.S. Sen. Kay Bailey Hutchison didn't know who the first Texas governor was.
And maybe longshot hopeful Debra Medina again scored points by repeatedly promising to end property taxes if elected. Even if there's no chance she'll ever be able to deliver on that.
The three Republican candidates for governor gathered at Dallas-based WFAA8 studios Friday night for
The Belo Debate
, which was shown on a statewide network of stations. The big winner? WFAA8. This was a model for how debates should be conducted.
The questioners were sharp, the pace was crisp, the set looked like a million bucks and the candidates were called on to navigate a variety of segments.
A so-called
Jeopardy
round, as WFAA8 anchor and moderator John McCaa described it, caught Hutchison off balance when it came to identifying the state's first governor. But candidates also were grilled in depth during one-on-one segments in which the sharpest, most persistent questioners were longtime
Dallas Morning News
political reporter Wayne Slater and Len Cannon of Houston's KHOU-TV.
Lucero and Terri Gruca of Austin's KVUE-TV rounded out the reporter contingent. All work for Belo properties, hence the one-hour program's less than scintillating title. But prospective voters who took the time to tune in were given ample reason to stay tuned.
McCaa expertly orchestrated the proceedings without being a drudge about it. And the tone throughout showed both a respect for the office and a willingness to press the candidates when their answers didn't seem to add up.
So which of the three candidates came out ahead? Probably Perry, despite that patently phony grin punctuating several of his answers. He came to play, though, tangling twice with Slater and also playing an interesting game of ping-pong with Cannon on the subject of whether he'd serve out his entire term if re-elected. In the end, Perry unequivocally said yes -- and actually seemed to mean it.
Hutchison looked nice in a royal blue suit, but otherwise didn't seem to register much. She made a reasonably impassioned closing statement, although it likely was too little, too late. Perry seemed far more engaged, creating a few sparks while Hutchison too often came off as bland and comparatively lethargic. Maybe she should have batted an eye at Slater.
Medina, belatedly invited by Belo when her poll numbers accelerated to double-digits, has a knack for speaking in easily digested sound bites. For one she's a "born-again, Bible-believing Christian."
Another mantra -- "where there's freedom, there's prosperity" -- is tied to Medina's opposition to property taxes. And as a novelty act, she can still get away with describing both Petty and Hutchison as a "team of economic tricksters intent on destroying our freedoms and selling Texas to the highest bidder."
Who knows? Maybe Medina can force a run-off, which would give Hutchison a chance to regroup and perhaps put a skip in her step.
The Belo Debate
tried to wrench all three candidates from their well-rehearsed talking points without being a bully about it. This was a forum with decorum, but never to the point of tedium.
***
Reliable sources at D-FW's CBS11 think they see a frontrunner for the vacant job of news director. That would be
Adrienne Roark
, news director at CBS-owned WFOR-TV in Miami.
Roark was at CBS11 Friday for an interview. According to her WFOR bio, she joined that station in January 2007 as assistant news director before taking charge of the newsroom in June of that year.
CBS11 also has had in-house interviews with Scott Keenan, formerly an interim news director at the station, and Kurt Davis, currently news director at KENS-TV in San Antonio.
The previous CBS11 news director, Scott Diener, recently left the station to join its former president and general manager, Steve Mauldin, at KCBS-TV in Los Angeles.
***
Responding to a
previous post
on WFAA8's nationally popular new iPhone app, Elvira Sakmari, director of integrated media at Fort Worth-based NBC5, notes that her station launched an iPhone app in October.
It also ranked No. 10 in iTunes' free news aps list, "where we stayed for a week," Sakmari says.
"We congratulate WFAA, CBS11 and
The Dallas Morning News
on their app launches," she adds.
As of this writing, iTunes' top 100 downloads of free news aps lists WFAA8 as No. 7 nationally, a spike from No. 10 last week.
CBS11's app has jumped up to 29th place (from 57th) and the
DMN
ranks 71st (from 73rd).
There are no other North Texas-based news apps in the top 100, including NBC5's.