Local Nielsen ratings snapshot (Fri.-Sun., May 20-22) -- Mavs re-take command against OKC, but numbers droop anew
05/23/11 10:29 AM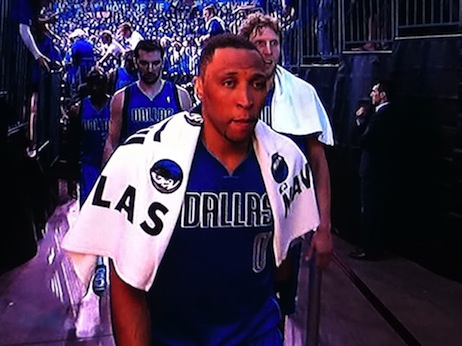 The Matrix led the Mavs' Saturday night victory parade. Photo: Ed Bark
By ED BARK
Measurements of sports bar audiences are highly imprecise at best, which might account for some of the shortfall for the Dallas Mavericks' Saturday night playoff win at Oklahoma City.
Still, you'd think that in-home viewing also would tick upward for Game 3 of the Western Conference championship series. But it didn't. The Mavs' defensive minded win on ESPN (8:07 to 10:45 p.m.) averaged 727,199 D-FW viewers, down from 741,050 for Game 2 and 803,381 for Game 1.
Game 3 of Mavs-OKC, in which Dallas took a 2-1 lead in the best-of-seven series, also fell off with motherlode 18-to-49-year-olds, drawing 417,906 in this advertiser-coveted age range. Game 2 averaged 434,359 and Game 1 had 450,812.
The game was still easily the weekend's most-watched TV attraction while also achieving a moral victory. Its peak overall audience of 983,449 for the final 15-minute increment topped Game 2's 941,895. Monday night's Game 4, with a scheduled 8 p.m. start time, will face off against ABC's two-hour season premiere of
The Bachelorette
. That could siphon off some potential viewers (but not many males) before the 10 p.m. local newscasts again take a hit from the Mavs' late night finish.
Also on Saturday, NBC's season finale of
Saturday Night Live
, hosted by Justin Timberlake with heavy involvement from Lady Gaga, scored a nice-sized 228,548 total viewers to outdraw all prime-time programming other than Mavs-Thunder. But the early Saturday evening running of the Preakness on NBC galloped to an even bigger audience of 318,582. That's a surprisingly big crowd after just 207,771 viewers watched NBC's Kentucky Derby telecast two weeks earlier.
The struggling Texas Rangers' 2-0 loss at Philadelphia to former ace Cliff Lee attracted 152,365 viewers in prime-time Saturday on Fox.
Sunday's prime-time Nielsens were paced by the CBS movie
Jesse Stone: Innocents Lost
, which had an imposing 394,765 total viewers to outdraw both the Miami Heat-Chicago Bulls playoff game on TNT (332,434 viewers) and ABC's three-hour dollop of the Billboard Music Awards (283,954). But the Tom Selleck franchise expectedly came up mostly empty with 18-to-49-year-olds, where it trailed both Heat-Bulls and the competing attractions on ABC, NBC and Fox/Fox4.
Friday marked the end of Mary Hart's 29-year-reign as co-host of the syndicated
Entertainment Tonight
. Few cared.
ET
had just 110,811 total viewers locally on WFAA8, barely half the crowd for CBS11's competing
Wheel of Fortune
(214,697 viewers). Hart's farewell, which she handled classily without getting too overwrought, also ran behind the competing rag mag
Access Hollywood
(124,663 viewers) on Fox4.
ET
likewise placed third with 18-to-49-year-olds, with
Access Hollywood
edging
Wheel
in that demographic.
In Friday's local news derby results, NBC5 edged both WFAA8 and CBS11 for first place in the 10 p.m. total viewers measurement. But Fox4 was tops with 25-to-54-year-olds, the main advertiser target audience for news programming on most stations.
Fox4 cruised once again with twin wins at 6 a.m. while WFAA8 swept the 6 p.m. competitions. At 5 p.m., NBC5 and WFAA8 tied for the lead in total viewers, with the Peacock running first outright with 25-to-54-year-olds.