Local Nielsen ratings snapshot (Tues., Nov. 2) -- election returns favor GOP, FNC
11/03/10 10:29 AM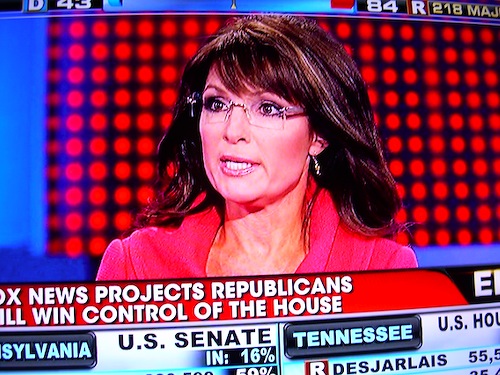 Big night for Palins: Sarah celebrates from her perch as a paid Fox News Channel analyst while weepy homesick daughter Bristol again evades eviction on ABC's Dancing with the Stars. Photo: Ed Bark
By ED BARK
Fox News Channel decimated its two cable news rivals in prime-time election coverage Tuesday while also outdrawing ABC, CBS and NBC in head-to-head competition.
Its celebration of the Republicans' return to a House majority clashed with MSNBC's pro-Democratic Party spins while CNN's "unfiltered" presentation again found few takers in D-FW. But the original all-news network did borrow the majestic music from HBO's
John Adams
miniseries during bridges in and out of commercial breaks. So that was nice.
The three cable news nets had the mid-term election coverage to themselves in the 7 p.m. hour. FNC's 166,217 viewers towered over MSNBC's 48,480 and CNN's 27,703.
FNC and the Fox broadcasting network's separate coverage both whipped the first hour of NBC's election special from 8 to 9 p.m. Here are those results:
FNC
-- 186,994 viewers
Fox
-- 152,365
NBC
-- 90,034
MSNBC
-- 41,554
CNN
-- 20,777
Everyone joined in from 9 to 10 p.m., with the Fox/Fox4 combo of national and local returns handily topping the field. Here's how it went:
Fox/Fox4
-- 242,400
FNC
-- 173,143
CBS
-- 166,217
ABC
-- 138,514
NBC
-- 96,960
MSNBC/CNN
-- 34,629 each
ABC's
Dancing with the Stars
results show again emerged as Tuesday's overall big winner. Five celebrities remain, including Bristol Palin, after Rick Fox's somewhat surprising eviction. A big crowd of 464,022 took it all in.
In local news derby results, Day 4 of the November "sweeps" brought an end to CBS11's three-day winning streak. WFAA8 instead nipped Fox4 for the top spot in total viewers, but those finishes were reversed among 25-to-54-year-olds, the main advertiser target audience for news programming on most stations.
Fox4 and WFAA8 tied for first at 6 a.m. in total viewers, with Fox4 alone at the top among 25-to-54-year-olds.
CBS11 entered the winner's circle with total viewer golds at both 5 and 6 p.m. But Fox4 won at those hours in the 25-to-54 age range.