This just in: A night in the lives of D-FW's late night newscasts (Thurs., May 15)
05/16/08 01:44 PM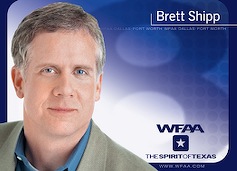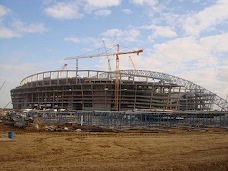 WFAA investigator Brett Shipp and Jerry Jones' palace in waiting.
By ED BARK
Whatever Brett Shipp is, he's not chicken-hearted.
WFAA8's star gumshoe no doubt cast a wider net over his hate mail potential Thursday with another investigation of possible grade-fixing at South Oak Cliff High School. This time Shipp also raised the possibility that the Kansas Jayhawks might have to forfeit their recent NCAA basketball championship because one of their star players, Darrell Arthur, apparently received unwarranted passing grades in math while at South Oak Cliff. That could make his athletic scholarship invalid.
A series of February "sweeps" stories by Shipp led to the high school's forfeiture of its 2006 state basketball title after officials determined that another star athlete had his grades laundered so that he could stay on the team.
In Thursday's lead story, Shipp cast Arthur as a likeable, good-hearted kid whom educators had let down.
"Once again," he said, "we've obtained school records which appear to show that some adults in his life may have broken the rules in an effort to win."
The story included an interview with Arthur's former math teacher, Winford Ashmore, who told Shipp, "These people (namely South Oak Cliff's former principal and its current basketball coach) knew what was going on with a lot of this type stuff, but yet they covered up for it."
Ashmore, no longer with the school, produced a 2002 grade book for freshman math that showed Arthur performing way below passing levels before other school officials upgraded him. Later failing grades also apparently were doctored.
WFAA8's new allegations are "being fully investigated" by the DISD, Shipp said. Any subsequent NCAA probe obviously could make this an even bigger scandal.
Shipp also has been making enemies of Dallas Cowboys officials with reports on the high costs of luxury suites being built for the team's new palace in Arlington. But he was otherwise occupied Thursday when the team announced pricing structures for the rest of the stadium's seats.
WFAA8's
Craig Civale
picked up Shipp's baton and painted a grim picture of longtime season ticket-holders being disenfranchised.
"The new stadium will certainly blow you away, but so will its prices," he said before longtime season ticketer Randy Daniels lamented, "How can it be America's Team when America can't afford to walk in the gate?"
Civale's report emphasized that nearly seven out of eight seats will require additional payments of seat licenses. What he didn't say is that it's a one-time fee that can be paid out over 30 years time.
In Daniels' case, said Civale, four season tickets for $5,800 at Texas Stadium in Irving will balloon to more than $600,000, including license fees, at the new Arlington showplace.
That can't be entirely accurate, at least not under the pricing structure announced Thursday. But WFAA8 seemed intent on sticking it to the Cowboys while rival stations -- and
The Dallas Morning News
-- emphasized that the cheapest seats, at $59 each with no license fee, would be just $9 more expensive than the current nosebleeds at Texas Stadium.
Fox4 sports anchor
Mike Doocy
said for starters, "The cost of one of those 50,000 or so seats in the upper or lower bowls might be a pleasant surprise to some Cowboys fans, believe it or not. The average reserved ticket price jumps only about $6 dollars from 84 bucks at Texas Stadium to just over $90 for the new facility."
That doesn't include a license fee in most cases, though, so Doocy in contrast may have tilted too far in the Cowboys' favor.
NBC5, which treats sports as though it's a leper colony, dismissed the whole thing in a skimpy reader by anchor
Mike Snyder
. CBS11 was only a bit more expansive, although anchor
Karen Borta
underscored the one-time only aspect of license fees and the 30 years that seat holders will get to pay them if they choose.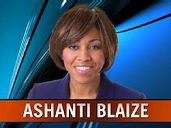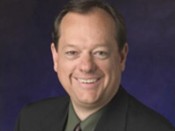 NBC5's Ashanti Blaize, Fox4's Paul Adrian, CBS11's Steve Dennis
AND IN OTHER NEWS . . .***
Fox4 investigator
Paul Adrian
had a thoroughly researched, extended piece on the overall effectiveness of a 2003 Texas law that made it much tougher to sue doctors for malpractice.
The idea was to keep quality doctors in the state rather than watch them flee in the face too many "frivolous lawsuits." Adrian found, however, that doctors really hadn't been fleeing in the first place.
"So did Texas benefit?" he asked after marshaling an armload of statistics and interviewing several experts. "Doctors some, insurance companies a lot. Most Texans probably couldn't say."
Adrian did note, however, that the cost of family health insurance has continued to escalate, from $8,200 a year in 2001 to $11,500 by 2005. Also, the number of uninsured Texans under the age of 65 has increased to 5.5 million, he told viewers. That's 27 percent of the state populace and also the highest percentage of insured in the country, he said.
It was a lot to digest. But tough-to-illustrate stories like these are still worth telling if a station will make room for them. Adrian's attention to detail, in a medium that prizes much flashier fare, clearly is out of style and becoming all but extinct.
***
CBS11 sports reporter
Steve Dennis
does better work than many give him credit for. But on Thursday night, he got off-puttingly palsy walsy with Dallas Cowboys players and his station's bossman during a piece on the team's annual golf outing.
Dennis first figuratively genuflected at the sight of CBS11 president and manager
Steve Mauldin
, who was playing in the makeshift tournament. Then he asked QB Tony Romo of Mauldin, "Did he call me Stu? Does he know my name?"
Sports anchor
Babe Laufenberg
played along, drawing off-camera mega-laughs from anchors
Doug Dunbar
and
Karen Borta
by telling Dennis, "All right, thank you, Scott."
Dunbar then told Babe, "Appreciate you, Bob." Arrrgh, please stop.
***
Yet another in a series of CBS11's "Money Savers" stories found reporter
Ginger Allen
recycling "The Grocery Game," which charges shoppers $10 every other month for its list of bargain-priced goods. NBC5's
Brian Curtis
did the "Grocery Game" gambit during a previous ratings sweeps period.
***
CBS11 investigator
Bennett Cunningham
had an interesting piece on faulty elevators and lax inspections. It turns out that some of the most dangerous up-and-downers are in hospitals, where an inspector said they're "notorious for being abused and damaged" by hospital carts and other medical equipment rolling in and out.
***
Fox4 and NBC5 both led their newscasts with the story of a 14-year-old girl who evaded a would-be kidnapper on the way home from school and then gave helpful information that aided police in capturing him.
Interestingly, Fox4 made an obviously conscious effort not to show her face on-camera during a story by
Lari Barager
. But NBC5 reporter
Scott Gordon
's story both showed the teen's face and identified her by her full name. WFAA8 and CBS11 had nothing on this during their late nighters.
***
NBC5's
Ashanti Blaize
had a story on a distraught but resilient mother whose wheelchair-equipped van was stolen after she saved for years to get it for her 18-year-old son, who has cerebral palsy. He's supposed to graduate from high school in two weeks, but now it won't be nearly as easy to get him to the ceremony.
It's hoped that someone will reach out to her. And that the particularly despicable thief will be caught and punished to the max.
Four nights to go.