Odds/ends from WFAA8's Big D NYE telecast
01/05/10 12:41 PM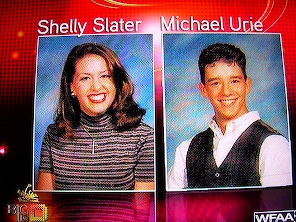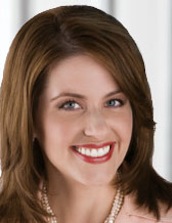 Shelly Slater then and now: still toothsome after all these years.
By ED BARK
Credit WFAA8 anchor
Shelly Slater
for having a mega-toothy smile and a self-deprecating sense of humor during the station's live New Year's Eve telecast of Victory Park's Big D NYE celebration.
Slater and
Ugly Betty
co-star
Michael Urie
, who also appeared on the program, used to be classmates at Plano Senior High School. She made fun of their above junior yearbook picture while conversing with Urie, whose appealingly snarky sense of humor may make him a match for Neil Patrick Harris someday. Harris has been a much-in-demand awards show host, and it's easy to envision the quick-on-his-feet Urie in the same role someday.
Former WFAA8
PM Magazine
host
Leeza Gibbons
also made the Big D NYE scene, in the company of sports anchor Dale Hansen and weathercaster Pete Delkus, who served as co-hosts.
Hansen of course did most of the talking -- and nuzzling with Gibbons. He couldn't help himself after the blissed-out former
Entertainment Tonight
personality said of her return to Dallas, "This is like a hug." The big lug then wrapped his arms around her.
Gibbons also threw in a memorable description of Hansen, telling him, "You're a little softie marshmallow teddy bear."
Delkus is still trying to get a word in.