Local Nielsen ratings snapshot (Fri.-Sun., Sept. 10-12) -- Give the Cowboys a big F in D.C., but another A+ in the numbers game
09/13/10 10:04 AM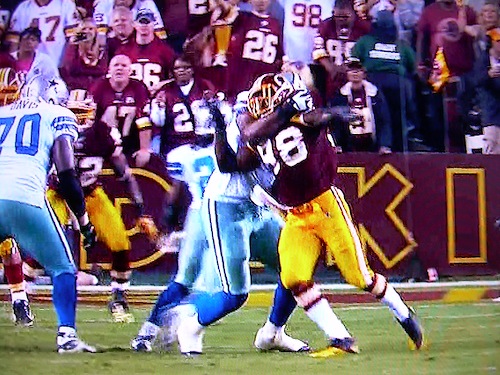 Cowboys right tackle Alex Barron chokes the life out of what looked like Tony Romo's game-winning pass to Roy Williams at the end of NBC's Sunday Night Football. Flozell, we hardly knew ye. Photo: Ed Bark
By ED BARK
The Dallas Cowboys found incredibly creative ways to lose their regular season opener at Washington Sunday night while more than 1.5 million D-FW viewers watched the biggest and best reality series in the land -- NFL football.
A fumble on the last play of the first half by running back Tashard Choice gifted the Redskins with a touchdown that increased their lead to 10-0. And on the last play of the game, QB Tony Romo's apparent game-winning TD pass to much-maligned receiver Roy Williams was negated by a holding call on beleaguered right tackle Alex Barron. Washington 13, Dallas 7 on NBC's
Sunday Night Football
. I hope your TV set survived anything that might have been aimed its way.
The Nielsen ratings say that an average of 1,574,422 viewers witnessed the carnage. That's a huge increase over last season's noon season opener on Fox, in which the Cowboys won 34-21 at Tampa Bay while 1,042,951 watched.
A fairer comparison, though, is the 2009 season's glittering Sept. 20th unveiling of Jerry's Palace, also on NBC's
Sunday Night Football
. An almost equally hard to stomach, last-second loss to the visiting New York Giants amassed 1,700,608 D-FW viewers.
Many viewers warmed up for Cowboys-Redskins by watching Fox's featured game between the triumphant, always heroic Green Bay Packers and host Philadelphia. That matchup drew a robust 631,126 viewers while the noon game on CBS between the victorious Houston Texans and Indianapolis Colts had a somewhat smallish 352,888 viewers.
Over on Fox Sports Southwest Sunday afternoon, the lately resurgent first-place Texas Rangers won their fifth in a row by sweeping their home series against the Yankees. An average of 190,016 viewers watched the impressive return of pitcher Cliff Lee, who allowed just one run in eight innings in a 4-1 win.
The much more epic Friday and Saturday night Rangers-Yanks games, both on TXA21, both stretched past midnight before ending in walk-off Texas wins.
Friday's game had a peak audience of 318,956 between 11:30 and 11:45 p.m. Saturday's face-off, delayed an hour by rain, hit a high point of 305,384 viewers between 10:30 and 10:45 p.m. Both games beat all competing programming throughout the night, including the Saturday night college football games between Alabama and Penn State on ESPN and Texas and Wyoming on Fox Sports Southwest.
But yes -- and WFAA8 sports anchor Dale Hansen again can chortle at this -- the combined audience for all three Rangers-Yankees games fell far short of the crowd drawn by the Cowboys. Perhaps only a Game 7 of a Rangers World Series would stand a chance against the Cowboys. And the odds would still be against the North Texas 9.
Meanwhile, in Friday's local news derby results, NBC5 won at 10 p.m. in both total viewers and 25-to-54-year-olds, the principal advertiser target audience for news programming on most stations.
The Peacock also swept the 6 a.m. competitions. WFAA8 and CBS11 tied for first at 6 p.m. in total viewers while WFAA8 had the gold to itself at 5 p.m.
Fox4 again flexed among 25-to-54-year-olds, though, winning at both 5 and 6 p.m.
PROGRAMMING NOTE --
TXA21 has dropped the syndicated
The Daily Buzz
from its weekday morning schedule and currently is filling the 5 to 8 a.m. slot with sitcom reruns.
The station hopes to make an announcement on longterm replacement programming within a week or so, says CBS11/TXA21 communications director Lori Conrad.