This just in: a night in the lives of D-FW's late night newscasts (Fri., Nov. 9)
11/12/07 09:37 AM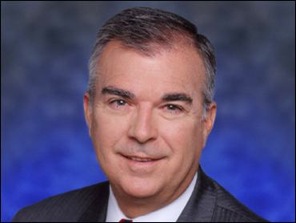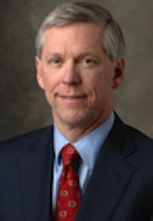 CBS11's Robert Riggs and Dallas Morning News publisher Jim Moroney
By ED BARK
Members of Belo Corp's ruling kingdom traditionally move at Warp speed when it's ass-covering time.
That's clearly what happened when
The Dallas Morning News
hastily deployed a task force of six bylined reporters to diminish an investigation it knew was coming Friday from CBS11's
Robert Riggs
.
And indeed
The News
got there first that same morning with a top-of-the-front page story headlined "UT Southwestern's A-List?"
Riggs previously had done the legwork while the taxpayer-funded UT Southwestern Medical Center in Dallas dragged its feet and fought the public release of a 2003 list of more than 6,000 influential "special assistance patients." All are earmarked for special VIP treatment not afforded the general public. That includes an unlisted telephone number -- which Riggs almost gleefully made public -- that gives them access to preferred care on weekends or after-hours.
VIPs also are entitled to free parking and personal escorts to medical appointments. Among them are the three men who call the shots at the Belo-owned newspaper. Namely, boss of all bosses Robert Decherd, publisher Jim Moroney and editor Bob Mong, whose families also are included.
Riggs, who had a long career at Belo-owned WFAA-TV (Channel 8) before joining CBS11 in 2002, said on
Friday's 6 p.m. newscast
that the
The News
began working on the story after its executives were asked by CBS11 about the effect that such preferential treatment might have on news coverage of UT Southwestern. Two of them, Moroney and Mong, were quoted in the newspaper's story as saying they knew nothing of the list and had not benefited from it in any way.
That's called knocking down a competitor's story by any means necessary. And
The News
underscored that intent with boxed front page quotes from former Dallas mayor Ron Kirk ("The what list? I wish somebody had told me. I haven't been over there") and Dallas County Republican Party chairman Kenn George ("How come nobody told me about it? I want my limo").
CBS11 took a different tack in a story that named and pictured Decherd and Moroney among other notables such as Dallas Cowboys owner Jerry Jones and billionaire Ross Perot. A lengthier version of the story aired on the station's 6 p.m. newscast before being condensed a bit for the 10 p.m. program.
In both cases, Riggs interviewed a camouflaged former UT Southwestern employee who told him that those on the list "got quicker access to the physicians when they came for their appointments. They frequently were taken directly into the exam room ahead of the patients that were waiting."
Both CBS11 and
The News
included a defense of the program by Dr. John McConnell, executive vice president for health system affairs at UT Southwestern. But the newspaper made no mention of the unlisted phone number given to the medical center's VIPs. Nor did it tell readers about the letter of gratitude (which included the special hotline) sent to "special assistance patients" by UT Southwestern president Dr. Kern Wildenthal.
This much is certain.
The News
got easy access to the list only after Riggs did the grunt work. It's also obvious that the inclusion of Belo executives on the list is what spurred
The News
to lash together what basically amounted to a rebuttal. Headlines on the two inside "jump pages" further illustrated the latter point.
Page 16A said, "UT Southwestern defends keeping list." And on Page 17A: "Many prominent people unaware of their inclusion."
It should be noted that there's no love lost between Riggs and his former employer. And vice-versa. Maybe next time, though, Riggs would be better off not alerting the newspaper's ruling class. It's amazing how fast they can order up a preemptive strike when their names are in play.
Elsewhere Friday, Belo8's 10 p.m. newscast dutifully promoted its corporate cousin's Sunday front page story on how Dallas County leads the state of Texas in putting convicted murderers on probation. One of the station's investigative aces,
Brett Shipp, acted as the go-between after doing his own dogged reporting earlier in the week on the latest televangelist scandal and faulty natural gas couplings that have caused several deaths from explosions.

Belo8 street reporter Craig Civale had a piece on the newest list of Dallas' top 10 tollway offenders, who collectively owe $587,000 including penalty fees for non-payment.

Fox4 did this same basic story in an earlier sweeps period, but its reporter actually tracked down some of the offenders. Civale coasted by laying three $1 dollar bills side by side on the Dallas tollway. Then he told viewers that if the top 10 offenders all paid up, their singles would cover the entire stretch of tollway a total of 18 times.

Janet St. James, Belo8's usually solid medical reporter, had a loopy story on "tree yoga." Its practitioners hang upside down from branches and say things like, "It's childlike. It's joyous."

St. James tried it herself and asked rhetorically, "What part of this is supposed to be relaxing? . . . It's not working for me."

Unfortunately, her piece led directly into Pete Delkus' weathercast after anchor John McCaa first observed, "I don't know if I could get the tree to hold up if I did it."

Delkus of course saw this as yet another opportunity to lob a fat joke at sports anchor Dale Hansen.

"I can guarantee ya Hansen couldn't get it to hold up," he cracked.

"Well," said McCaa, "some redwoods I'm sure would."

The newscast ended with a story on the world's first toilet-shaped house. It's in South Korea, where perhaps the loud off-camera laughter could be heard.

NBC5 had a largely uneventful 10 p.m. show, save for anchor Mike Snyder tripping over various words from start to finish. But the station's weekly "Big Game Friday Night" segment during high school football season is still the market's best. Reporter Derek Castillo this time stood live amid cheerleaders for the victorious Lake Dallas team. He's effectively enthusiastic and the kids clearly enjoy being on TV. Works for me.

Fox4 had its most forgettable 9 p.m. newscast of the week. No story stood out. Let's leave it at that.