Whether they're right -- or (weather) they're wrong . . .
05/25/11 09:30 AM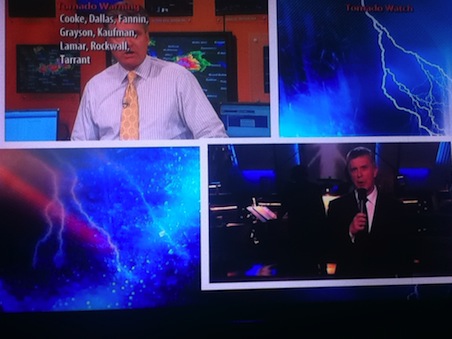 WFAA8's Pete Delkus repeatedly shared screen time with Dancing host Tom Bergeron during Tuesday night's severe weather situation.
Photo: Ed Bark
By ED BARK
Where was the weather coverage? Why was it virtually non-stop on CBS11 but on-and-off on rival stations during Tuesday's prime-time hours?
Fans of Fox's
Glee
and NBC's
Biggest Loser: Couples
likely are firing away, too, at D-FW's respective local carriers. The season finales of both shows were preempted in favor of storm updates.
Some viewers might also be upset at WFAA8's treatment of ABC's
Dancing with the Stars
finale, which at times was reduced to a silent movie at the bottom right hand corner of home screens while weathercaster Pete Delkus delivered live reports on the night's dangerous North Texas mix of funnel cloud sightings, hail and heavy rain.
In the end, no serious injuries were reported as of late Tuesday night. And the sun made a return appearance Wednesday morning.
Still, unclebarky.com has been peppered with emails from readers who are outraged that some stations didn't go wall-to-wall with weather. We'll keep their names confidential, but here are some samples:
"I realize it's the season finale, but
Dancing with the Stars
virtually uninterrupted during the storm? Really? I plan to make it my personal mission that Channel 8's license is revoked. They were hardly 'acting in the public interest as a public trustee.' "
Another reader contended that "every other station went all weather EXCEPT Channel 8 . . . I have lived here all my life and have been partial to Channel 8. I found it shocking that poor Pete was squeezed in during commercials or -- even worse in my mind -- was made to go split-screen with the show. Would Channel 8 ever go all weather? Well, we know the answer is no. Incredible."
A third emailer came close to canonizing CBS11 meteorologist Larry Mowry while being "flabbergasted" by the coverage on rival stations. "Now I know why CBS11 and Larry Mowry are the go-to's for severe weather. Larry has been on it all night. CBS programming be damned . . . Mowry really showed his weather prowess. Delkus looked clueless and where was (NBC5 meteorologist David) Finfrock? While often a critic of TV's over-blown weather coverage, it is during these times that the weather stars shine. And I'm glad D-FW has people like Larry and the staff at CBS11."
OK, let's add some perspective.
Mowry and his team did a fine job Tuesday night. But CBS11 also had the luxury of being able to bail out on an all-rerun network lineup of
NCIS, NCIS: Los Angeles
and
NCIS
again. So that's a pretty easy call compared with what rival stations faced. Would CBS11 have completely preempted a two-hour
Dancing with the Stars
finale in favor of storm coverage? That's a hypothetical question, but the answer almost assuredly is an emphatic no. Even on Tuesday night, smidgens of those
NCIS
reruns occasionally and briefly knocked Mowry off the air.
Fox4 stuck with the 7 p.m. season finale of
American Idol
while occasionally shrinking it to a smaller size to make room for weather graphics. Meteorologist Dan Henry mostly popped in during commercial breaks before Fox4 decided to preempt the season finale of
Glee
in its entirety (save for a few minutes). That's a gutsy, tough call. And the station no doubt got hammered for it. Fox4's regular 9 p.m. local newscast then aired as scheduled, and of course was dominated by weather coverage.
NBC5 aired portions of the live two-hour season finale of
Biggest Loser: Couples
before eventually deciding to bail out on it in favor of continuous weather coverage. It then opted to show almost all of NBC's hottest new show,
The Voice
, saving weather updates for commercial breaks. A reader wondered where Finfrock was. He was there all along, and as usual keeping his jacket on. Fellow weathercaster Grant Johnston also helped out -- in shirtsleeves.
WFAA8 likewise was caught in a programming dilemma. Its network's most-watched show,
Dancing with the Stars
, had its two-hour season finale from 8 to 10 p.m. Preempt that in its entirety and you're going to take a savage beating from thousands of area viewers. So Delkus brought full weather updates during commercial breaks and also popped in regularly during the show itself, which (as pictured above) shrunk to a non-audio presentation in the bottom right hand corner of screens.
Was that enough? Yeah, I think it was. Had a tornado actually touched down in a densely populated area, WFAA8 and its rivals obviously would have cut the cords with their respective high-powered network programs. Does anyone really doubt that?
CBS11 should be commended for what it did. But it also had by far the easiest path to travel while Fox4, NBC5 and WFAA8 had to deal with the most popular shows on their networks. There's no perfect solution. But let's get real about this stuff instead of putting a halo on CBS11 for its decision to make weather a priority over a batch of reruns.