Local Nielsen ratings snapshot (Tues., Feb. 23) -- Idol thrashes Olympics in third of five faceoffs
02/24/10 10:17 AM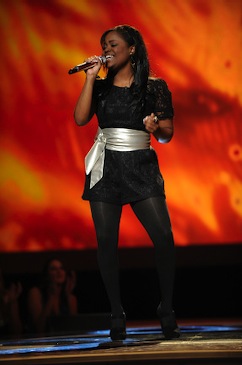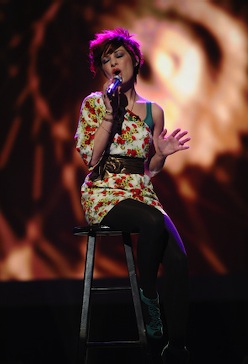 Houston's Paige Miles and Amarillo's Lacey Brown. Fox photos
By ED BARK
Fox's
American Idol
took a 2-1 lead over NBC's Olympics with a big smackdown Tuesday night.
Idol
's first live performance show, featuring the 12 female semi-finalists, drew 644,699 D-FW viewers from 7 to 9 p.m. The Winter Games averaged 468,255 viewers during those two hours.
Last week
Idol
won Tuesday night both locally and nationally before the Olympics struck back with gold medal ratings on Wednesday. It'll be a tougher sled this Wednesday for the Olympics, with a quartet of North Texan males singing on
Idol
while NBC counters with star turns by skier Lindsey Vonn and short track skater Apolo Ono. The Mavericks/Lakers game also should do some ratings damage with a dual telecast on TXA21 and ESPN.
Overall, the Olympics averaged 502,186 D-FW viewers in D-FW, peaking at 692,203 from 10 to 10:15 p.m., when local newscasts on Fox4, WFAA8 and CBS11 took another ratings hit.
Elsewhere in prime-time, ABC again had solid returns for a new episode of
Lost
, which drew 298,597 viewers in the 8 p.m. hour.
Lost
fared even better among advertiser-craved 18-to-49-year-olds, where it crept very close to the Olympics while
Idol
dominated. Here's the 18-to-49 medal standing in this key demographic:
GOLD
--
Idol
(365,299 viewers)
SILVER
-- Olympics (195,696 viewers)
BRONZE
--
Lost
(185,911 viewers)
At 9 p.m., Fox4's local newscast took the silver in both ratings measurements.
In local news derby results, WFAA8 and CBS11 tied for the lead at 10 p.m. in total viewers, but CBS11 had the gold to itself among 25-to-54-year-olds, the main advertiser target audience for news programming. All three competing newscasts saw their audiences downsized by NBC's competing Olympics, which stretched to 11:10 p.m. this time.
NBC5 controlled the 6 a.m. ratings on a trumped-up snow-scare morning that evolved into only a light dusting in the immediate D-FW viewing area. The Peacock almost doubled its total viewer audience from Monday and more than doubled it among 25-to-54-year-olds.
NBC5 also dominated the early evening news numbers, sweeping the 5 p.m. competitions, winning at 6 p.m. in the 25-to-54 demographic and tying WFAA8 for first at the later hour in total viewers.