Fox4's new look 9 p.m. newscast isn't quite a slam dunk, but does include a dunking meteorologist
10/01/10 02:11 PM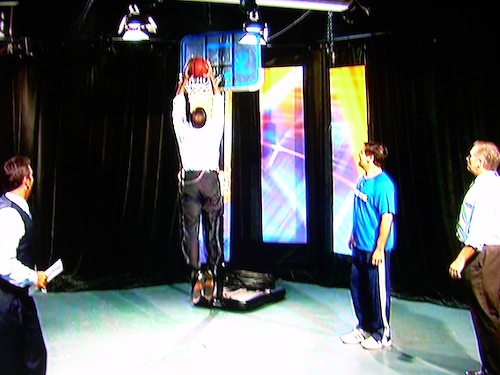 Fox4 weathercaster Dan Henry skies and scores. Photos: Ed Bark
By ED BARK
It's not every day you can see a news anchor, sports anchor and meteorologist shoot baskets live during a local newscast. Let alone watch the weather dude dunk.
Presenting Fox4's new and quite possibly very improved 9 p.m. local newscast, which on Thursday featured three live anchor-newsmaker interviews in an effort to better combat the oft-formidable network entertainment programming on rival stations.
The center ring attraction was an extended in-studio interview with Dallas Mavericks owner Mark Cuban. And I do mean extended. Co-anchor Steve Eagar set things up by talking to Cuban for one minute, 53 seconds before a commercial break.
Then came an 11-second, drum-accompanied tease -- "Cuban. Doocy. Eagar. One On One On One with Mark Cuban" -- before an uninterrupted 13 minute, 12 second gathering of the Mavs main man, a vested Eagar, sports anchor Mike Doocy and climactically, weathercaster Dan Henry.
Henry showed off his two-handed dunking prowess -- albeit on an obviously less than regulation height basket -- before Cuban tried and at first failed to execute a one-hand slam. But Fox4 later showed tape of Cuban kinda sorta dunking before he flashed a very broad grin.
The ultra-elongated interview with Cuban, who alternately cradled and palmed a basketball, touched on a lot of topics but didn't mention the Securities and Exchange Commission's newly revived
"insider trader"
allegations against him. There probably wasn't much Cuban could say, but the question should have been broached.
Other than that, no big problem. It's about time that Fox4 changes and livens things up without resorting to the cheap, sex-alicious content of CW33's competing 9 p.m. newscast. Eager and Doocy might have been overly chummy with Cuban at times, but they did press him a bit on why anyone should believe the Dallas Mavericks will be any better this season after not signing anyone resembling a marquee free agent.
Cuban stuck to the notion that nothing less than an NBA title will satisfy him, although few believe that's a realistic possibility in the coming season. The only technical glitch was a "Dress For Success" tag that briefly showed up on-screen.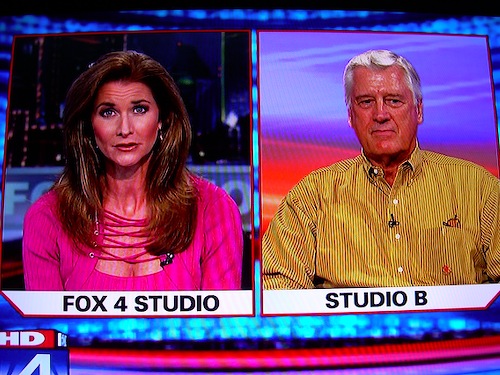 Heather Hays split-screens it with tree protector Ray Deshaw.
Before Cuban's appearance, co-anchor Heather Hays had a solid live interview with Collin County rancher Ray Deshaw, who's battling officials over the preservation of trees he planted 20 years ago. The county says they pose safety and drainage problems. Unfortunately, Deshaw's name was misspelled "Dishaw" throughout the interview. These things happen.
Eagar earlier had a live interview with Fox football analyst and former NFL quarterback Sean Salisbury over the issue of intrusive parents at youth football games. The segment was sparked by a recent parental brawl during which one dad brutally forearm-shivved another dad from behind. Fox4 repeatedly played the footage.
All of the interviews provided in depth looks at newsworthy topics or people. This of course enhances the anchors' profiles while reducing the need for reporters in the field. Still, the newscast found time for three fairly lengthy dispatches from reporters Matt Grubs, Sophia Reza and Lari Barager. Henry also got around to doing the weather after dunking.
There are some perils. Those with no interest in Cuban might well have changed the channel rather than sit through more than 15 minutes with him. It did in fact seem like an eternity, even for a big sports fan like yours truly.
The plusses also are apparent. Standard issue news blips are mostly eliminated, as are run-of-the-mill crime stories and other junk on a bunk. At least that was the case Thursday night.
The ratings didn't quite pan out, though. Fox4 ran fourth in total viewers and with 18-to-49-year-olds in Thursday's 9 p.m. slot while tying NBC's
The Apprentice
for third among 25-to-54-year-olds.
No matter. I'd stay the course with this more substantive, enterprising treatment of local news. No need to make
that
big a fuss over Cuban, whose segment should have been trimmed by at least a few minutes or more. But I'm betting the producers already are making adjustments. And kudos to them for making the effort to try something different without selling out the news product.