Simply the best: A fond farewell to sports reporter George Riba
02/19/15 11:05 AM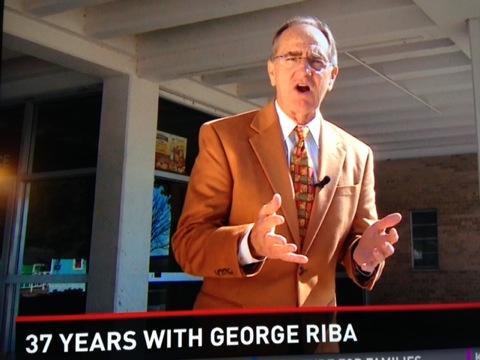 Closing shot of George Riba for his last story on Gannett8. It aired on Wednesday's 10 p.m. newscast. He's standing in front of Fair Park Coliseum, where the Dallas Blackhawks hockey team used to play.
Photos: Ed Bark
By ED BARK
@unclebarkycom on Twitter
George Riba's final story for Gannett8 aired on Wednesday's 10 p.m. newscast.
But as
previously posted
, his official last day at the Dallas-based station is Friday, Feb. 20th. And during Thursday's 10 p.m. edition, the finest shoe leather TV sports reporter in the history of this market will be honored in full by sports anchor Dale Hansen and many others whose profiles may be higher than his.
"I grew up having some desire to anchor, but the longer I stayed in the business, the more I learned that reporting really was what I do best," Riba says in an email interview. "I really enjoying going out on the street, meeting people and putting together stories. They're always different, plus it gets you away from the office. Then the writing and editing is where the real fun comes in. In sports, we edit all of our own stuff. So that gives you full control over the final product."
Riba has filled in as an anchor numerous times during a career that included short stints at KTVT-TV (CBS11) and KXAS-TV (NBC5) before he joined WFAA-TV (Gannett8) in September, 1977. He's worked in D-FW television for nearly 42 years, the last 37 years and five months at Gannett8.
"When I have to anchor for a week at a time during peak vacation time, I start getting a little antsy to go outdoors," he says. "Maybe that's the farm boy in me and just needing to get out."
He grew up on a farm in the Texas Hill Country and initially worked as a radio deejay before finding his true calling. It's always been Riba's view that a reporter should stay out of the way whenever possible. Or as the late Charles Kuralt used to counsel, "Don't ride the tricycle. Keep yourself out of the story. The people who are watching it are not interested in you."
"I have never felt like I should be part of the story, although these days they want more and more reporter involvement," Riba says. "I'm sure that comes from covering news during my early days. For me, it was impossible to make a tragic incident a story about yourself. I always felt that if the story was interesting, then it should be able to carry itself without reporter interference."
Riba has been to the gate thousands upon thousands of times, covering the Dallas Cowboys' Super Bowl XXVII win in Pasadena; the Texas Rangers' first journey to post-season play; and the Dallas Mavericks' inaugural 1980-'81 season and their 2011 championship run. He even went to Japan in 1983 to cover SMU's win over Houston in the Mirage Bowl.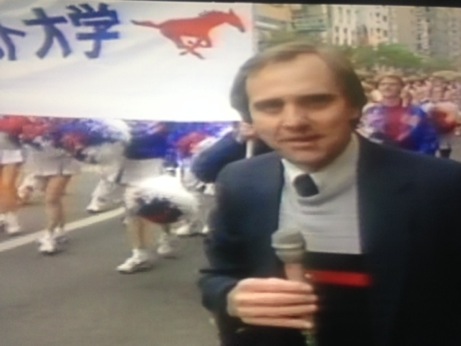 Riba reporting from 1983 Mirage Bowl festivities in Tokyo.
"But really, the stories that had the most impact on me were the human interest ones," Riba says, spotlighting Duncanville High School basketball coach Sandra Meadows' battle against cancer while her team rallied round her; the 2014 TCU baseball team adopting cancer-stricken little Micah Ahern; and Allen High School golfer Drew Miller, "who got sponsors to donate money for every birdie he made and then in turn donated the money to a charity in honor of a young kid who died of cancer."
"Those are the ones you never forget," Riba says. "I know that if it brings tears to my eyes while I'm editing the story, it'll have an impact on the viewer at home."
He'll turn 66 in May, and his decision to retire is "really based on age," Riba says. "I'm not checking out entirely. Hopefully I'll be able to do something like voice-over work, commercials, part-time radio . . . Who knows? I'm wide open to anything that's fun and hopefully less time-consuming."
Through it all, he has continued to run. And at last count, that includes 29 marathons.
"I started running 41 years ago because I needed to lose some weight and felt like I needed more energy," he says. "I eventually worked my way up to a marathon and then tried to do one a year because I figured it was a great way to keep me in shape. I ran a 3:01 (3 hours, one minute) in 1979. But of course, I weighed about 135 pounds back then. Now that was an awesome day!"
And yes -- wait for it -- Riba has been an awesome, generation-spanning sports reporter who never forgot how to be a nice guy as well. He leaves this particular scene in times when local newscast sports segments continue to shrink in both relevance and importance in the eyes of station consultants and news room managers. But Riba experienced all of the glory years and companion technology changes. D-FW will never see the likes of him again. In both duration and sustained excellence, he stands alone and on top. When you say George Riba, you've said it all.
Here's the video of his final story, a travelogue through time, space and sports venues that couldn't quite keep up with him.
Email comments or questions to:
unclebarky@verizon.net