Mavs must play mad as well as hard to douse the Blazers
04/15/11 08:19 AM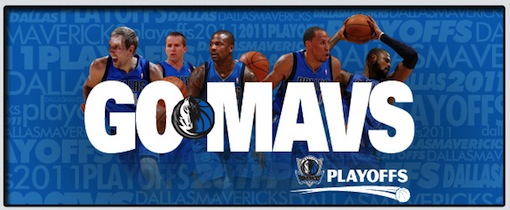 By ED BARK
Fittingly perhaps,
The Dallas Morning News'
two-page interior spread on the Dallas Mavericks' playoff hopes includes a quarter-page ad for an erectile dysfunction remedy.
The not-so-subliminal message: Again impressive in the regular season, the Mavs will have to man up against the formidable Portland Trail Blazers or slink home after another failure to perform in the post-season. But can they get it up?
The Western Conference's other playoff teams have all made it pretty clear that the allegedly "soft" Mavericks are the team they fear least. That should make the Mavs fighting mad and eager to prove their collective manhood. And I hope/think they will this time, barring any key player injuries.
This is an obviously older team that needs everyone at full throttle. Fatigue can be a real factor if one or more of these mostly veteran player can't suit up. In that context, the likes of Peja Stojakovic, JJ Barea and DeShawn Stevenson are key ingredients to a long playoff run. They need to play well in spurts. And they all need to be healthy.
I think we can count on Dirk Nowitzki and Shawn Marion to show up big-time. But can the same be said of Jason Terry and Tyson Chandler?
Terry's a media-friendly guy who always talks a big game. But in the final regular season games against both the San Antonio Spurs and Los Angeles Lakers, he mostly shot blanks when they needed him. That can't happen in the post-season.
Chandler, this season's key addition, also was a boy among men against those two teams. He'll have to stay out of quick foul trouble against Portland while also showing he can bang the boards and stop the Blazers from getting too many easy points inside. He didn't do that against the Lakers or Spurs.
A quick word on the Spurs and coach Gregg Popovich's decision to sit out his star players in that pivotal game against Los Angeles earlier this week. Unbelievable. San Antonio still was vying for overall home court advantage throughout the playoffs, but the Eastern Division's Chicago Bulls instead beat them out by a single game. And the Lakers of course were trying to maintain the No. 2 seed in the West ahead of Dallas. The Spurs made that much easier by laying down for them. So in a way justice was served when Popovich played all of his regulars in the season finale, a loss to the Phoenix Suns in which guard Manu Ginobili emerged with a strained right elbow that could cause him to miss one or more playoff games. I don't feel your pain, Popovich. What you did was a slap at the Mavericks.
Of course, just about everyone seems perfectly willing to diss Dallas. And many are picking the Blazers to again send the Mavs home losers. But I like this team, and I think it has both heart and grit. We'll see about that. But premature ejection would be devastating this time out. So look for the Mavs to play angry and tough for a change. All we can ask is for them to square their shoulders and lay everything on the line. I've got a strong feeling they'll do that. And if they do, they'll prevail.
PROGRAMMING NOTE:
All of the first round games against Portland will air free of charge on TXA21, beginning with Saturday's 8:30 p.m. opener in Dallas. They'll also be shown on either ESPN or TNT, with the all-sports network getting Game 1.