Local Nielsen ratings snapshot (Tues., July 26) -- CNN's is biggest winner on Night 2 of Democratic convention while CBS again craters
07/27/16 12:08 PM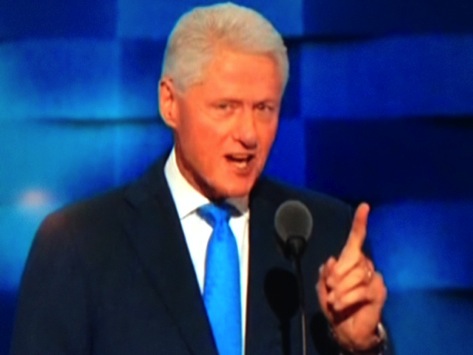 Bill Clinton tried to sell a love story as Tuesday's featured speaker.
Photo: Ed Bark
By ED BARK
@unclebarkycom on Twitter
Tuesday's 9 to 10 p.m. convention "window" -- where ABC, CBS and NBC grudgingly join in -- was primarily consumed by Bill Clinton's typically elongated speech on behalf of his wife.
He began at 9:11 p.m. and ended at 9:53 p.m., out-talking his much-ridiculed, 33-minute 1988 convention keynote address by 9 minutes. With daughter Chelsea in attendance, it in large part amounted to a flowery "How I Met Your Mother" speech. Hillary's climactic one-minute address to Democratic delegates via satellite again ended up taking the broadcast networks into "overtime," as NBC anchor Lester Holt put it. But they all had signed off by 10:15 p.m. on a night when CNN ruled the overall ratings roost.
Here are the 9 to 10:15 p.m. D-FW Nielsen ratings in both total viewers and 25-to-54-year-olds (main advertiser target audience for news programming).
Total Viewers
CNN -- 162,895
NBC -- 113,318
Fox News Channel -- 77,906
ABC/MSNBC -- 63,742 apiece
PBS -- 49,577
CBS -- 35,412
25-to-54-Year-Olds
NBC -- 59,526
CNN -- 53,573
ABC/FNC/MSNBC -- 26,787 apiece
PBS -- 8,929
CBS -- 5,953
As with the Republican convention, NBC was greatly aided by a big lead-in from
America's Got Talent
, which had 283,296 total viewers in the 7 to 9 p.m. slot. That easily made
AGT
the most-watched program on any single network.
The 9 to 10:15 p.m. portion of the convention on all seven networks added up to 566,592 total viewers and 208,342 in the 25-to-54 age range. That easily blew past Night 2 of the Republican convention, which drew 432,027 total viewers and 148,816 in the 25-to-54-year-old demographic.
The CW's 8 p.m. relaunch of
Mad TV
fizzled with just 14,165 total viewers. But a big percentage of them -- 12,703 -- were 18-to-49-year-olds (main advertiser target audience for non-news programming).
Here are Tuesday's local news derby results, with the 10 p.m. editions again omitted due to convention over-runs.
TEGNA8 and CBS11 again were left out of the money via the same outcomes as Monday. Fox4 swept the 6 a.m. competitions and NBC5 had twin wins at both 5 and 6 p.m.
Email comments or questions to:
unclebarky@verizon.net