Local Nielsen ratings snapshot (Wed., Nov. 1) -- Astros and Fox win big with Game 7 of World Series
11/02/17 11:54 AM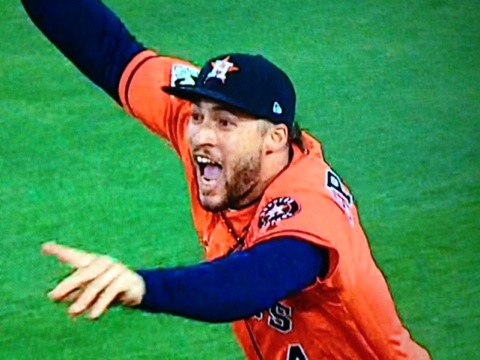 Party on. World Series MVP George Springer exults after final out.
Photo: Ed Bark
By ED BARK
@unclebarkycom on Twitter
A second consecutive seven-game World Series again made Fox's baseball investment pay off handsomely Wednesday.
Although lacking the thrills and drama of Chicago Cubs' extra-inning win over the Cleveland Indians, this year's first-ever Houston Astros world championship likewise was a gift that kept on giving. In fact, it outdrew Game 7 of Cubs-Indians in total D-FW viewers.
The Astros' 5-1 win over the Los Angeles Dodgers, in which they again pummeled former Texas Ranger Yu Darvish, averaged 861,774 D-FW viewers and 343,266 in the advertiser-coveted 18-to-49-year-old demographic. The game ended at 10:59 p.m., and these numbers reflect the actual running time.
Last fall's Cubs-Indians finale pulled in 792,550 total viewers and 368,817 in the 18-to-49 age range. The Cubs won 8-7 to claim their first world championship in 108 years. Astros fans had waited the entire existence of the franchise -- since 1962 -- for their team's first crown. They were birthed as the Colt .45s, a name that lasted for three seasons.
Among programs scheduled entirely opposite Game 7 of Astros-Dodgers, ABC's 8 p.m. episode of
Modern Familiy
was Wednesday's runner-up prime-time attraction with 142,442 total viewers.
Here are the local news derby results for the fifth weekday of the November "sweeps."
TEGNA8 won a downsized 10 p.m. race in total viewers while CBS11 ran first with 25-to-54-year-olds (main advertiser target audience for news programming).
NBC5 scored twin wins at 6 a.m. and TEGNA8 ran the table at 6 p.m. The 5 p.m. competitions produced another sweep, with Fox4 twice topping the charts.
Email comments or questions to:
unclebarky@verizon.net